Automobile
New Jeep Avenger 2023 review | Auto Express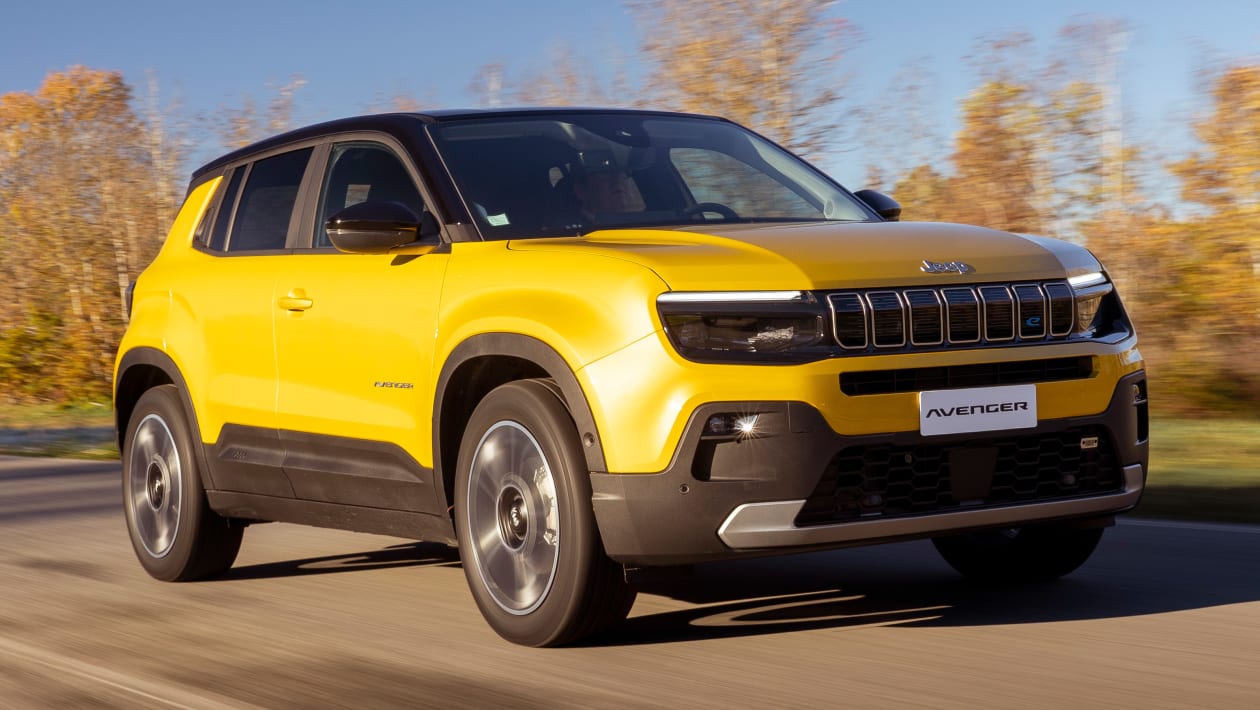 Verdict
Based on this short drive, Jeep's first truly European offering deserves to find customers. We suspect the Avenger's sweetest spot may not be the fully laden First Edition driven here but on the whole this is a surprisingly practical and well-sorted small SUV, with enough technical and aesthetic differences to make it stand out in the market. And while purists may scoff at the idea of a front-drive, pure-electric off-roader, Jeep's engineers have done an excellent job of stitching in just enough of the brand's 'go-anywhere' spirit. Precious few small EV SUVs have charm, but you'll find some of it here.
Europe has long had a love-hate relationship with Jeep. The brand is an American icon, and there's no doubt that what is fundamentally an SUV manufacturer should be well suited to market trends. And yet Jeep has frequently struggled to shift proper numbers of its US-centric models over here. That changes now, the company hopes, with the Avenger – a car engineered for Europe and designed for Europe, and one that will also be built here.
The Avenger is the smallest Jeep production model yet. It is, in effect, a sister vehicle to the Peugeot 2008 and DS 3 – and it will be made in Poland alongside a couple more stablemates, forthcoming baby SUVs from Alfa Romeo and Fiat. It goes on sale in a few weeks' time and deliveries won't be expected until late spring 2023 – but Auto Express has been granted early access to a very late prototype to see how it's progressing.
The raw specs seem promising enough on paper. The Avenger sits on an evolution of parent group Stellantis's CMP platform, and for UK customers at least, it's an EV only. There will be four-wheel-drive versions, we're promised – there have to be, really, to truly deliver on Jeep's brand values. But of course, the vast majority of sales are likely to be front-wheel-drive editions like the car we're driving here. It features a single motor producing up to 154bhp and 260Nm of torque, depending on which of the car's modes you're using.
There's a 54kWh battery (51kWh usable), made up of 10 cell modules beneath the rear seats and seven beneath the front. You'll get a heat pump (handy) and three-phase AC charging (less handy for most UK buyers) as standard, and rapid charging will max out at 100kW – enough, Jeep claims, to take the battery from 20 to 80 per cent of charge in 24 minutes. The car weighs just over a tonne and a half, and Jeep says it'll be capable of travelling around 249 miles between recharges – or 342 miles in stop-start urban traffic that allows more frequent brake-energy recuperation.
It certainly looks smart enough; the evolution of CMP has allowed shorter overhangs (improving the car's approach and departure angles to match those of the larger Jeep Renegade), and this and some neat design work around the wheelarches give the Avenger a more planted stance than other cars on the same architecture, despite it having a similar width. 
There's a neat integration of Jeep's seven-slot front grille – now flush to reflect the all-electric powertrain, while the side profile is pure Jeep, with a suitably abrupt drop at the C-pillar, and at the rear there's a fresh take on the company's 'X' tail-lights. Clever placement of the body cladding means that car-park scrapes are likely to hurt bare grey plastic more than the painted bumpers or headlight units.
 The overall effect is that of a proper chunky small off-roader, and one that stretches beyond the compact 4.08m length (as a comparison, Peugeot's 2008 is a full 22cm longer).
The image seems pitched to sell, then – and the good news is that the same can be said of the driving experience. For this feels not only a totally European creation (and it should, since it was engineered out of Italy) but also a definite step beyond the original bunch of CMP models like the 2008, Vauxhall Mokka and DS 3. Within a hundred yards you'll notice the difference in ride accomplishment – what feels like a slightly softer initial set-up, but with slightly more robust damping that keeps things contained over some of the coarser access roads at our base for the day, Stellantis's Balocco test track.
The facility is known for its smooth asphalt, and the Avenger feels most at home here. The steering is consistently weighted, with a pleasing amount of heft, and it's direct and fast enough for you to position the Jeep accurately. It does a good job of staying flat in corners and there's adjustability in the chassis too; if you do find the nose washing out into understeer – its natural, entirely predictable trait if you're misbehaving – then a mid-corner lift can bring it back in line. We'd want time on roads for a definitive judgement but we already suspect this car strikes a better mix of composure, comfort, control and coherence than many of its competitors – including some from within Stellantis itself.  
This sophisticated experience is also down to the calibration of the throttle in the Avenger's three road-based driving modes. In Normal you have 107bhp and 220Nm of torque, and if you flick the switch between the front seats to move into Eco mode, those figures drop to 81bhp and 180Nm. In the default setting there's enough punch for B-roads and motorways, and while the efficiency-focused mode does feel a little lethargic on Balocco's expanses, that instant EV torque would probably still deliver enough pace in suburban traffic, should you want to eke out every mile of range possible.
That ability to carry speed through corners means you could need the full 154bhp and 260Nm of Sport mode less than you might imagine. The best thing to report is that if you do demand maximum performance from the Avenger, key elements like the pedal modulation and steering don't lose their balance.
The new electric motor – developed as a joint venture between Stellantis and Nidec – is impressively refined, with next to no whine, even under hard acceleration. Balocco's compacted surface probably does the Avenger a few favours on rolling refinement but even so, there's little transference or road roar, and the worst noise we could detect at 60mph was a bit of wind rush from around the side mirrors.
We did try one of the off-road modes, meanwhile; 'Mud' allows the front wheels to spin a little more than usual in a bid to clear them of sludge and find better traction. Our brief test on a puddle-strewn track was some way short of the more extreme Jeep 'Trail Rated' fare but it demonstrated not only that the front-drive set-up can cope with slippery, wet conditions but also how the increased ride height lifts you above many ground obstacles that would thump the underfloors of rivals. The other modes, incidentally, are 'Sand' and 'Snow' – and there's also a hill-descent control system.
It's hard to comment just yet on how realistic that 249-mile WLTP range will be but after a good couple of hours punting the Avenger around Balocco, on a chilly November morning, our car seemed on course to deliver around 220 miles. We can see how flicking the 'B' switch, to increase the level of energy regeneration when you lift off from 15kW to 45kW, would help the car to travel comfortably more than this distance in town.
Inside, there's a single spec of infotainment system – a 10.25-inch affair that offers Android and Apple integration, along with TomTom navigation – and a digital instrument panel that will measure the same size on posher versions, and seven inches on lower-end editions. The central display has a slick interface and the system responds snappily to screen presses. Extensions of the software's functionality will also be able to be accessed via smartphones, smartwatches and home assistants.
The dashboard is clean and neatly designed, with drive-selector switches replacing any sort of gear lever and, thankfully, conventional buttons for heating and ventilation – precisely what's required from a brand with functionality at its heart. The finish throughout is clever and tasteful more than it is than lavish, but there are enough body-coloured inserts to brighten the mood, and patterned textures where there might otherwise be bare grey plastics.
There's space on board for four adults, with noticeably more rear knee and legroom than you'd find in the DS 3 or Mokka, although taller rear-cabin occupants might grumble a little about headroom in the centre seat. The boot is a decent size, meanwhile, at 355 litres, and the adjustable floor has a washable material on its reverse, in case you end up using your Avenger to take your four-legged friend for walks.
We've yet to see definitive UK specs and prices for the Avenger but we already know that customers here will be offered Jeep's usual upper trim levels, Longitude and Limited. The more modest of the pair will come with full-LED headlights, keyless go, the full gamut of terrain modes, the smaller of the digital instrument panels, electrically adjusted side mirrors, rear parking sensors and 16-inch alloy wheels.
The range-topper will step the wheel size up to 17 inches and feature the larger instrument panel, flashier front seats, adaptive cruise control and a powered tailgate with hands-free gesture control.
European customers will be able to buy an entry-level edition with 16in steel rims, but at present there are no plans to bring it to the UK. British buyers will be able to stump up for the First Edition, though, which gets 18-inch wheels, ambient lighting, a wireless smartphone charger, heated seats and windscreen, folding side mirrors and full-LED tail-lights.
Beyond these trim levels, Jeep is planning a relatively simple offering based on options packs (examples include Tech, Winter and Seats), and a choice of seven colours. But customers will then be able to customise their cars further at their dealership, by applying graphics to everything from the front grille to the roof.
| | |
| --- | --- |
| Model:   | Jeep Avenger First Edition |
| Price:   | £38,000 (est) |
| Engine/battery: | 1x e-motor, 51kWh (usable) |
| Power/torque:    | 154bhp/260Nm |
| Transmission:    | Single-speed automatic, front-wheel drive  |
| 0-62mph:    | 9.0 seconds |
| Top speed:   | 93mph |
| Range:     | 249 miles (WLTP) |
| Max charging:  | 100kW DC (20-80% in 24min) |
| On sale:    | January 2023 |
File source