Sports
"36 & 35 – name of Stuart Broad's biography by an Indian" – Fans blast Broad for being smashed by Jasprit Bumrah for 35 runs at Edgbaston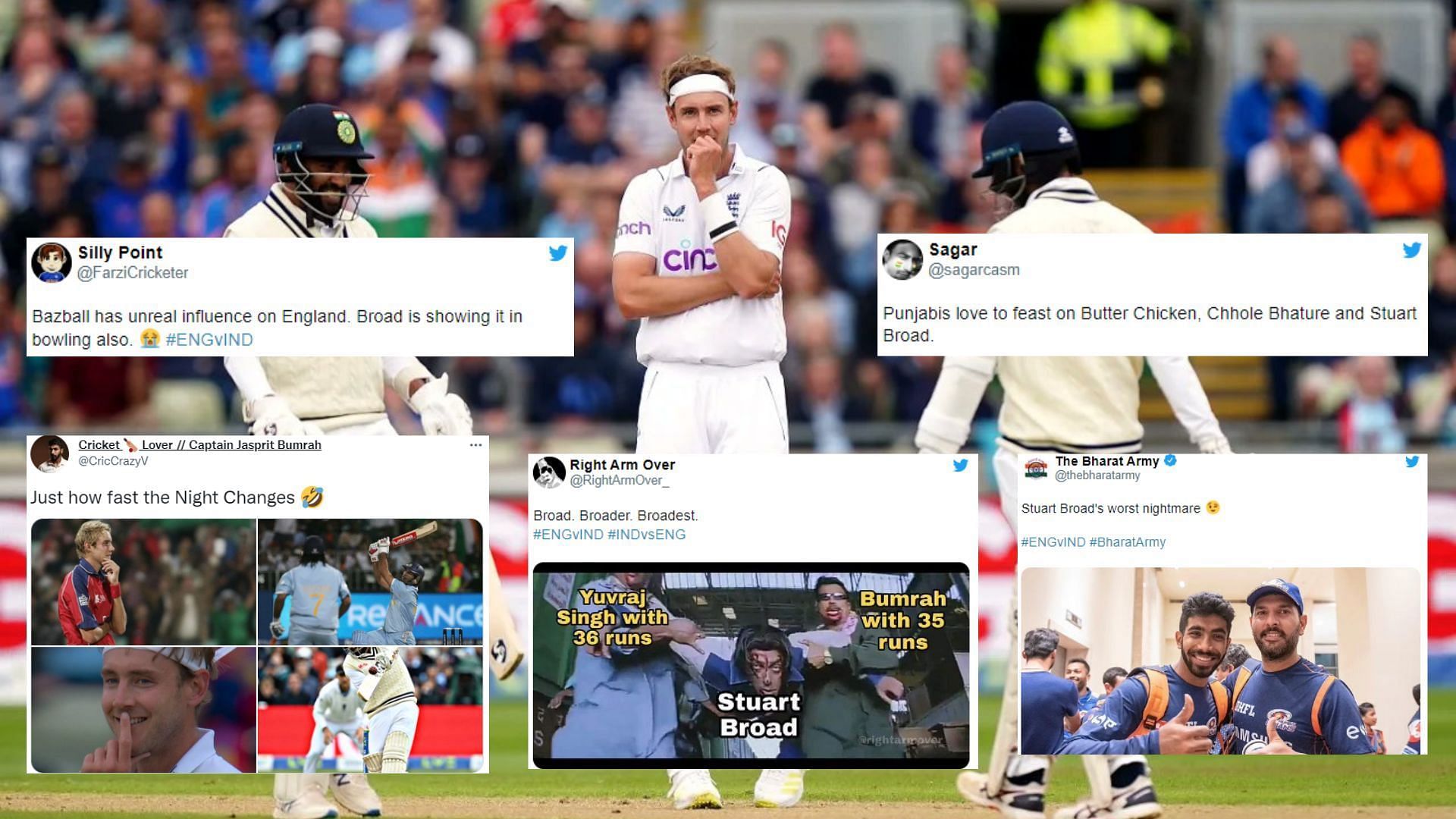 One of England's greatest fast bowlers ever, Stuart Broad added another unwanted record to his name on Saturday as he conceded 35 runs in one over against Indian captain Jasprit Bumrah during the Edgbaston Test.
The visitors had just one wicket remaining and Bumrah was looking for some quick runs during India's first innings. Instead of bowling a tight line outside the off-stump to find the edge, Broad looked to bounce Bumrah out.
The plan backfired as that allowed the Indian captain to free up his long levers and he scored 29 runs off the bat, with the other six being extras. Broad thus went on to bowl the most expensive over in Test history.
Fans on Twitter reminded Broad about how he was smashed for six sixes in an over by Yuvraj Singh 15 years ago in the T20 World Cup. They roasted the veteran pacer for getting smashed all around the park and looking helpless in front of a tailender.
Here are some of the reactions:
---
Bitter-sweet day for Stuart Broad at Edgbaston
When Stuart Broad picked up the wicket of Mohammad Shami with a short ball, he reached an incredible milestone, becoming the second England bowler after James Anderson to pick up 550 Test wickets. However, little did he know that the day was soon going to turn sour for him.
The 36-year-old probably thought that since he got Shami's wicket off a short ball, he could pepper Bumrah with a similar ploy. However, Stuart Broad probably didn't quite learn from the hammering England received at Lord's last year when they used the short-ball tactic against Bumrah and Shami.
Once Bumrah realized that he was going to get a barrage of short balls, he just waited on his back-foot and swung hard at whatever came his way. He did get a bit of luck with top edges flying over the keeper, but fortune probably favors the brave.
Bumrah has given India the perfect start with the ball too, picking up the wicket of Alex Lees early on during England's first innings. The visitors will hope to pick up a few more wickets after lunch to gain a significant advantage in the game.
---
Edited by Sudeshna Banerjee