Sports
5 NBA players who have interacted with Dwayne Johnson featuring Giannis Antetokounmpo, Steph Curry and more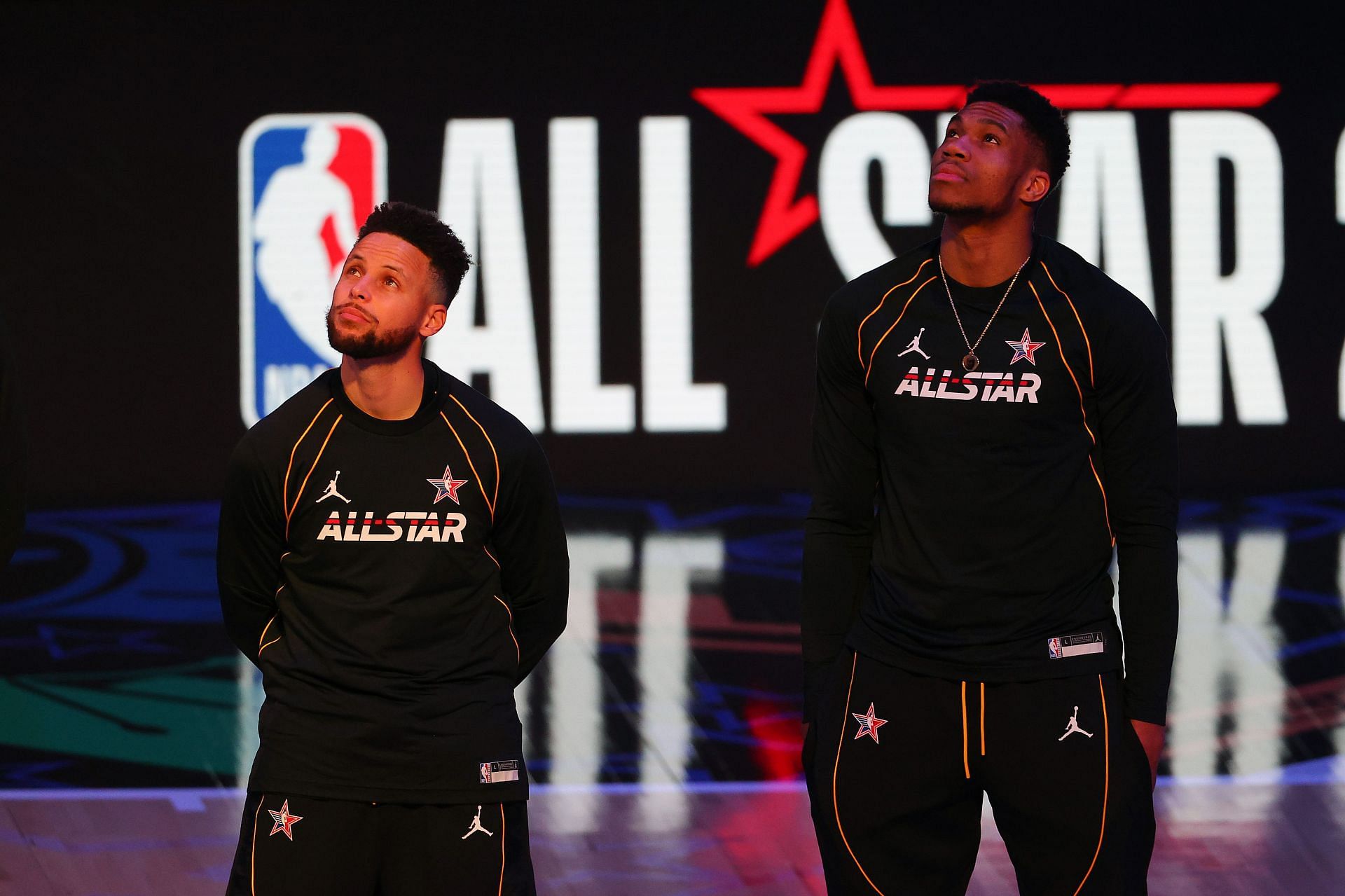 Dwayne "The Rock" Johnson is a huge NBA fan and has interacted with some basketball players over the years. The WWE legend's charisma and adaptability often outshine his hoop counterparts when they get together.
Johnson rose from being an unknown to becoming one of the entertainment world's biggest and most bankable superstars. He is certainly at par with the superstar power of the basketball players he has had a chance to collaborate with.
---
Here are 5 NBA superstars that Dwayne Johnson has had a chance to work with
#5 Kevin Durant
The Brooklyn Nets forward, one of the NBA's perennial MVP contenders, has had a very trying and controversial past few seasons in league history. KD tried his best last season, but couldn't even win one game against the Boston Celtics.
Durant demanded to be traded in the offseason and then reportedly asked for the firing of GM Sean Marks and head coach Steve Nash. To say that the past few seasons have been chaotic and full of shortcomings is an understatement.
For Dwayne Johnson to hype up Kevin Durant and the Brooklyn Nets' season almost guarantees a bounce-back year from the Eastern powerhouse. "Black Adam" doing a voice-over to hype up the Nets' campaign this season is chillingly hot:
"In this world, there are heroes and there are villains. Last year as the world focused on your failures, who saw friends become foes and others cement their place in history without you, questions from those watching as your legacy became riddled with doubt.
"But in order to reach your pinnacle once again, it's time to make a choice. You can be the destroyer of this league, or you can be its savior."
Dwayne Johnson's collaboration with Kevin Durant only adds more suspense and expectations for the Brooklyn Nets.
---
#4 Giannis Antetokounmpo
Giannis Antetokounmpo and his Milwaukee Bucks teammates are famous for their pre-game wrestling rituals. They have made some of the most hilarious and entertaining attempts to enter Dwayne Johnson's world.
It didn't take long for "The Rock" and "The Greek Freak" to interact. A year before the Bucks won the 2020 NBA championship, Antetokounmpo and Johnson worked out together. The fun-loving Greek basketball superstar then promptly tweeted:
"I smell what the Rock is cooking."
And when asked what happens in a wrestling match with "The Rock," Antetokounmpo replied:
"I'd kill him."
The two-time NBA MVP was obviously joking, prompting Dwayne Johnson to get back at the basketball player:
"Love this dude. It's why he's @NBA beast & the Bucks are #1 in the E.
But you don't want this smoke, cuz I will slap your lips off into next week, son.
And by that I mean, let's just get a workout in and enjoy some tequila after."
The two could interact yet again in the future given their undeniable chemistry and obsession when it comes to working out.
---
#3 Charles Barkley
Charles Barkley and Shaquille O'Neal challenged themselves to a weightlifting contest years ago. They went on to bench press 205, 225 and 315 lbs as the contest heated up. The final weight was at 405 lbs where a spotter was extremely necessary.
Working as spotters for the NBA superstars were Dwayne Johnson and Mark Wahlberg. The former will help Shaquille O'Neal while the latter takes Charles Barkley's side.
Both former NBA players had little to no problems lifting the previous three weight categories. Shaq failed at the 405-pound marker. Fortunately for Shaq, Dwayne Johnson was in his corner to help him out.
To the surprise of basically everyone in the gym, the out-of-shape "Chuck" easily out lifted Shaq. "The Rock" couldn't believe what he was seeing while Mark Wahlberg was putting on a poker face.
After Barkley was declared the winner, the producers then revealed that "Chuck's" weights were dummies. Everyone had their laugh, including the losing team that had Shaquille O'Neal and Dwayne Johnson.
---
#2 Shaquille O'Neal
Shaquille O'Neal and John Cena are close buddies. Cena and Dwayne Johnson had a made-for-TV spat during Wrestlemania 27, which all but guaranteed the now-retired Johnson's return to the WWE.
When WrestleMania 28 announced the fight between Cena and "The Rock," the former NBA superstar sided with the reigning WWE champ.
"Looking forward to seeing my man @JohnCena smacketh down @therock today at #wrestlemania in Miami. That guy is Shaqqed. #"
This was the first of a series of shots thrown at "The People's Champ."
Shaquille O'Neal added later:
"The real Tooth Fairy may visit @therock tonight after @johncena gets through with him. #cenation"
Dwayne Johnson had enough of Shaq's trash-talking and responded:
"@SHAQ Hows your lips Shaq? Cause next time I see you, I'm slapping them off your face." #TeamBringIt #ByeByeLips
"The Rock" ended up beating John Cena, but no lip slapping happened between Johnson and Shaq.
---
#1 Steph Curry
Two-time NBA MVP Steph Curry showed off his acting chops in HBO's Ballers. He was Dwayne Johnson's celebrity guest in one of the show's episodes.
"The Rock" played the character Spencer Strasmore, a former athlete who is now the manager of Anderson Financial Management.
Steph Curry, playing himself, interacted with Strasmore about certain things he wanted to deal with in his NBA career. Strasmore used all his charm to make Curry his client while trying to overcome obstacles that are seemingly placed to stop that from happening.
There was no trash-talking between the two, but the chemistry was simmering between the two Under Armour endorsers.
Next to LeBron James, Steph Curry is the biggest name in the NBA, which ranks him at the top of this list.
Edited by Michael Macasero