Sports
Everton Women 1-1 Liverpool Women: Katie Stengel cancels out Gabby George opener in thrilling Merseyside derby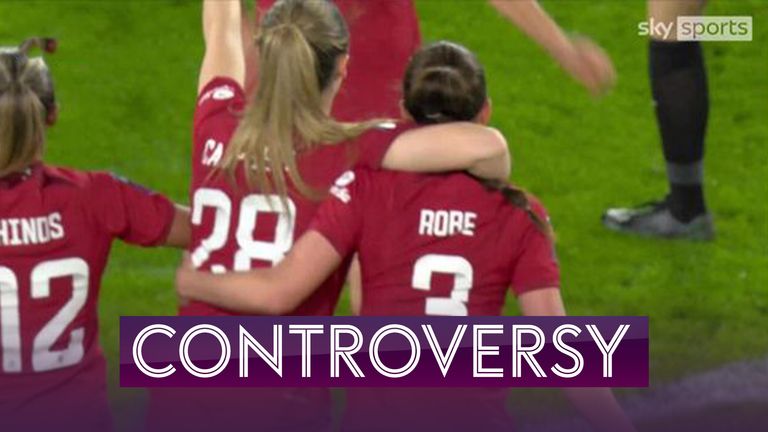 Liverpool were denied back-to-back WSL wins after Leighanne Robe's second-half strike was confusingly ruled out by referee Lauren Impey during Friday night's entertaining Merseyside derby, which ended 1-1.
Gabby George opened the scoring with a cross-cum-shot that looped fortunately over the outstretched arm of Reds goalkeeper Rachael Laws (27) before Katie Stengel responded with a well-taken equaliser (40).
Controversy arrived after the break when Robe applied the telling touch to a wonderfully creative corner routine, side-footing a cute front-post flick from Yana Daniels beyond Courtney Brosnan, which referee Impey disallowed for a supposed foul on Brosnan by Ceri Holland.
There was a moment of huge controversy at Goodison Park as Leighanne Robe's goal was disallowed by the referee

Liverpool had further chances to seal a famous win, while Everton's Jess Park also had a strike chalked off, meaning spoils were begrudgingly shared in front of a record crowd for a women's game at Goodison Park.
Katie Stengel equalises for Liverpool just before the break to make it 1-1 at Goodison Park.

"We should have won the game – I've just seen the disallowed goal and I can't believe it to be perfectly honest," Liverpool manager Matt Beard remarked at full-time. "It's crazy," he added, "that's another decision that has cost us three points."
Sixth-placed Everton are now without a win in four games, despite breaking their five-hour goal drought, while a point for Liverpool puts them eight clear of bottom club Leicester.
Gabby George's stunning strike gives Everton the lead in the Merseyside derby.

How Liverpool were wrongly held by Everton
An intriguing clash played out in front of a 22,161-strong crowd at Goodison saw Stengel's strike cancel out George's opener, but that only told half the story.
Calls for VAR technology to be introduced in the women's game have been rumbling for a while now, with that debate looking likely to intensify in the wake of a series of contentious refereeing decisions over the past couple of weeks.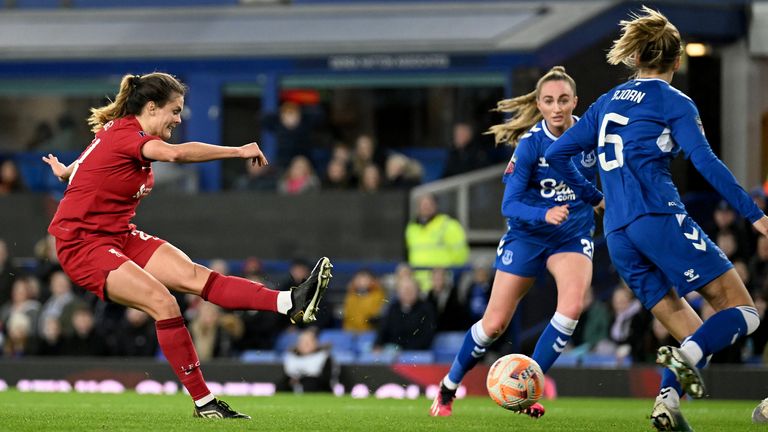 Liverpool thought they had stolen the lead just after the break but celebrations were short-lived after Robe's goal was ultimately denied, sparking outrage from Beard, among others.
"For me it's nothing," Sky Sports pundit Fern Whelan commented after the game, having had the benefit of multiple replays. "It wasn't a foul and the goal should have stood," she added when analysing the incident.
Still locked at 1-1, the Toffees then had a chance to add insult to injury when Nicoline Sorensen hit a fantastic cross from the right to meet Park at the far post, but the forward's header was directed just wide.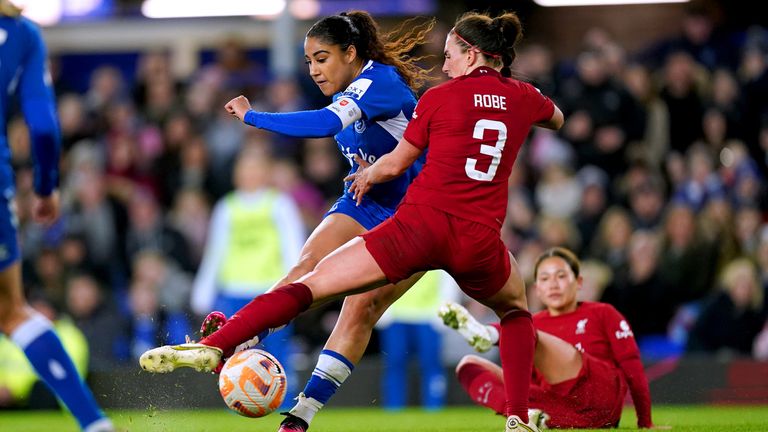 Goalkeeper Brosnan, whom Beard described as Everton's best player after the game, also made two great saves late in stoppage time, clawing away Stengel's effort from close range and tipping Holland's shot wide to keep the score level.
Liverpool have won nine points from losing positions this season, the second highest figure of any side, after Aston Villa.
Beard: 'I don't want to watch it'
Sky Sports' Caroline Barker takes a look at why the referee disallowed Leighanne Robe's goal for Liverpool that sparked huge debate

Liverpool manager Matt Beard:
"We should have won the game. I've just seen the disallowed goal and can't believe it, it's crazy.
"We committed our wing-backs higher, we wanted them to be more aggressive. It unsettled them, it really worked for us in the second half.
"I thought we created numerous chances, we just lacked composure in the final third. We frustrated Everton, but they put their bodies on the line. Courtney Brosnan was their best player by a country mile."
Sorensen praises George impact
Everton manager Brian Sorensen praises Gabby George for the commitment she shows and the impact she has in every game she plays

Everton manager Brian Sorensen speaking about captain Gabby George on her 100th WSL appearance:
"Gabs means a lot to the club. She has been here for many years. You always know what you're getting from her, that's why she's one of my captains.
"She's always going into the battles and the duels to put her body on the line. You know what you're going to get. She played a bit higher today, actually, because of the system, but she's a threat there.
"Wherever I put her, she will perform."
Everton next face Tottenham on Sunday April 2, kick-off 1pm, while Liverpool are away to West Ham on the same day, kick-off 5pm.
File source