Sports
"His squeeze must be out of this world"– Joe Rogan remarks on how quickly Charles Oliveira tapped out to Islam Makhachev's submission at UFC 280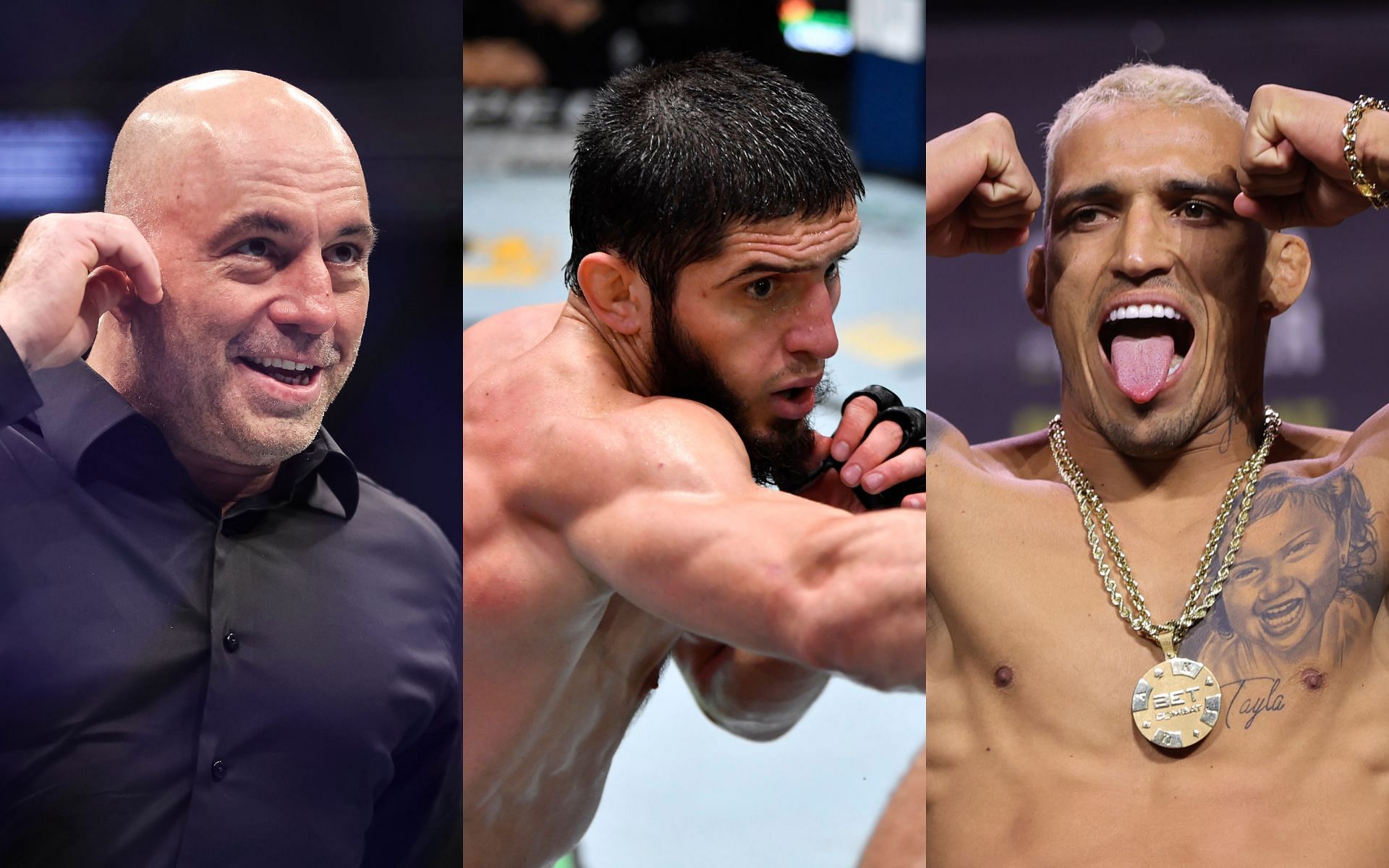 Joe Rogan has weighed in on how quickly Islam Makhachev made Charles Oliveira tap out with his fight-ending arm-triangle choke. The Makhachev-Oliveira matchup transpired at UFC 280 on October 22. It witnessed Makhachev knock Oliveira down in round two, follow him to the ground, and swiftly submit him to become lightweight champ.
Oliveira, a fearsome BJJ savant, holds the record for the highest number of submission wins in UFC history (16). Needless to say, submitting him as methodically and swiftly as Makhachev did impressed fans and experts alike.
In an edition of the JRE (Joe Rogan Experience) podcast, veteran UFC commentator Joe Rogan lauded Islam Makhachev for his outstanding performance against Charles Oliveira:
"Islam Makhachev must have the most incredible squeeze. His squeeze must be out of this world 'cause you see how quick Charles tapped once he clamped that on him. I mean, poof!"
Additionally, Joe Rogan highlighted that he'd always been impressed by Islam Makhachev. The avid BJJ practitioner explained that leading up to UFC 280, he'd warned that Makhachev was the UFC lightweight division's boogeyman. He further praised Makhachev for dominantly submitting top-tier lightweights such as Drew Dober and Dan Hooker in recent fights:
"He [Makhachev] submitted the guy [Oliveira] with the most [UFC] submissions in the history of the sport [of MMA]. And the way he did it, he was just so f**king methodical and dominant. And Oliveira tested him. I mean, he got out of bad positions in the first round, got back up to his feet, hit him with some good shots. But Makhachev, he's the f**king truth."
Watch Rogan discuss the topic at 4:30 in the video below:
---
Josh Thomson predicts the outcome of a potential Islam Makhachev vs. Alexander Volkanovski fight
During the UFC 280 post-fight press conference, UFC president Dana White suggested that Islam Makhachev's first UFC lightweight title defense could be a superfight against UFC featherweight champion Alexander Volkanovski.
Notably, Makhachev and Volkanovski faced off inside the octagon after Khabib Nurmagomedov called out the Aussie following Makhachev's victory in the post-fight interview.
On the Weighing In podcast, Makhachev's longtime training partner and former UFC lightweight Josh Thomson claimed that 'Volk' would be in trouble as soon as the Dagestani fighter gets his hands on him. Thomson notably harked back to how Volkanovski was almost submitted on multiple occasions in his fight against Brian Ortega last September. 'The Punk' said:
"That's not a great fight [Volkanovski vs. Makhachev]. He's [Volkanovski] gonna get smashed. He's not gonna outwrestle him [Makhachev], he'll hit him with the speed, so the hands might be a problem in the beginning."
Watch Thomson's assessment in the video below: