Sports
"I was actually hoping Paul Felder was gonna walk in" – Vanessa Demopoulos shares her 'jumping-into-arm' bucket list after going through Joe Rogan and Michael Bisping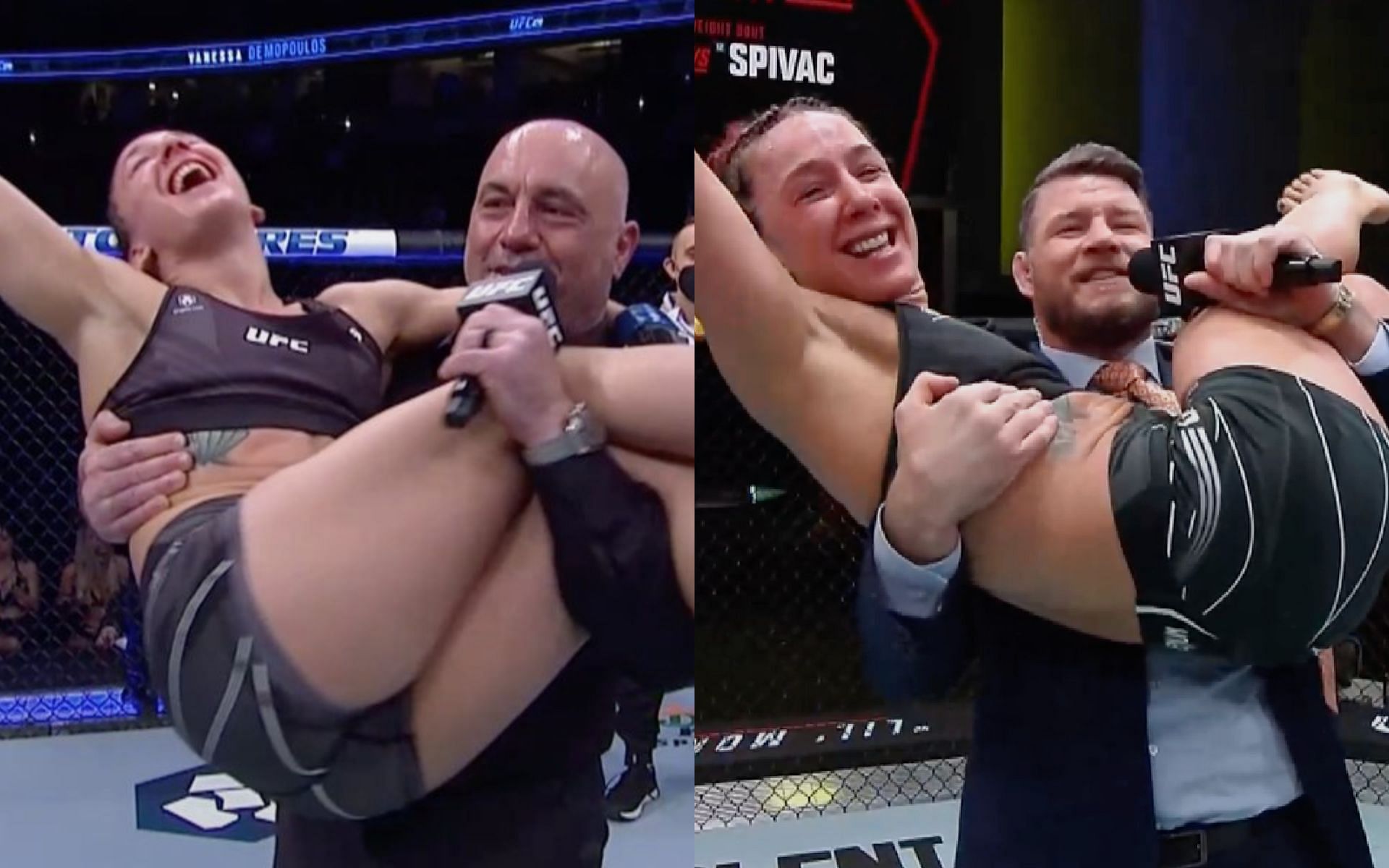 Vanessa Demopoulos revealed that she's planning to do her trademark post-fight celebration with every UFC interviewer.
After her decision win over Maria Oliveira at UFC Fight Night 215, Demopoulos jumped into Michael Bisping's arms, continuing the tradition of her unique post-fight celebration. This is the second time she jumped into Bisping's arms after doing it for the first time with Joe Rogan.
Watch Vanessa Demopoulos' celebration below:
During her post-fight interview, Demopoulos was asked if she has a bucket list of interviewers she'd like to celebrate with. In response, the up-and-coming strawweight said:
"Yeah, where's 'DC' [Daniel Cormier] at? Put me on these pay-per-views. Let's get some, 'DC'. I was actually hoping Paul Felder was gonna walk in there. But let's say Michael Bisping definitely got some redemption. So he got a take-two on that on. That was a much better embrace."
Check out Vanessa Demopoulos' interview below:
The first time Demopoulos jumped into Bisping's arms, the former UFC champion didn't seem prepared for the celebration. So when she was asked to compare Rogan's embrace to Bisping's, Demopoulos revealed that Rogan did a better job.
This time, though, Bisping did his assignment and was prepared to carry her. With that being the case, Demopoulos revealed that the Englishman is a redeemed man in her books.
---
Vanessa Demopoulos wins third straight UFC fight
Vanessa Demopoulos snagged her third consecutive victory in the octagon after picking up a unanimous decision over Maria Oliveira at UFC Fight Night 215.
The former Invicta FC Strawweight champion was outmatched as far as significant strikes go. However, her superior grappling carried her through the fight as she secured rounds one and three by dominating her opponent on the ground.
With the action going the distance, the 34-year-old from Colombus, Ohio took the decision, 29-28, on all the judges' scorecards. 'Lil Monster' has improved to 9-4 overall following her victories over Oliveira, Jinh Yu Frey, and Silvana Gómez Juárez.
On the other hand, Oliveira falls to 1-2 in the UFC. 'Spider-Girl' earned her first promotional victory on February 18, defeating Gloria de Paula by a split decision.