Sports
Novak Djokovic: Australian Open champion 'motivated' to win as many Grand Slams as possible after 22nd success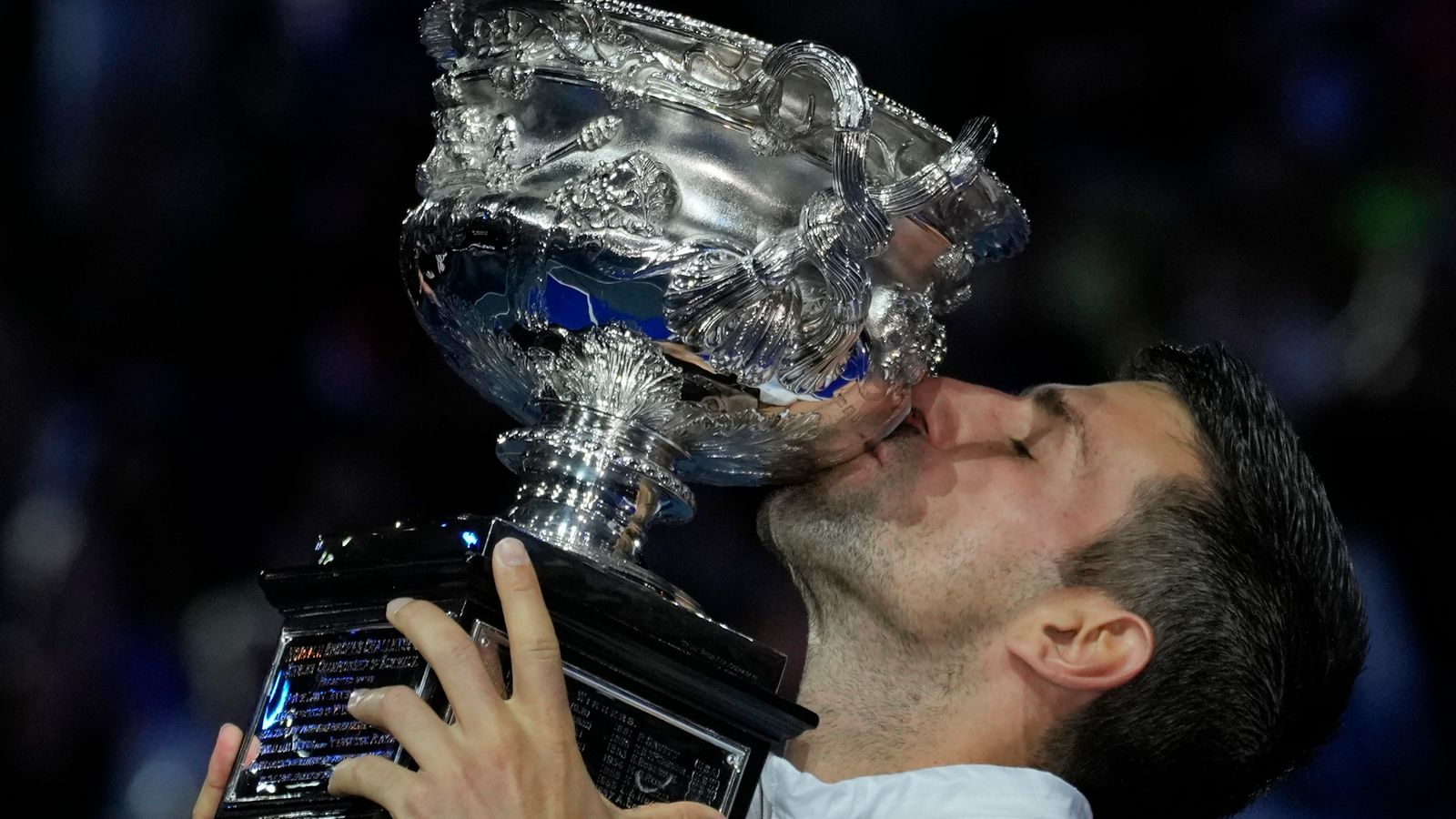 Novak Djokovic says he is still "motivated" to win more Grand Slams after claiming a 22nd of his career at the Australian Open to draw level with his great rival Rafael Nadal.
Djokovic lifted the Norman Brookes Challenge Cup for record-extending 10th time following a 6-3 7-6 (7-4) 7-6 (7-5) victory over first-time Grand Slam finalists Stefanos Tsitsipas on Rod Laver Arena.
The 35-year-old's triumph brought him level with Nadal's all-time record of men's singles Slam successes and the Serbian superstar already has his sights on adding to that tally.
"Of course, I'm motivated to win as many as possible," Djokovic said. "These trophies are the biggest motivational factor.
"I never like to compare myself to others but of course it's a privilege to be part of the discussion as one of the greatest players of all time.
"I still have a lot of motivation. Let's see how far it takes me. I don't want to stop here, I feel great about my tennis.
"I know that when I'm feeling good, I have a chance to win any Slam against anybody, so I like my chances going forward – but nothing is for granted."
I still have a lot of motivation. Let's see how far it takes me. I don't want to stop here, I feel great about my tennis.
As far as the Grand Slams are concerned, Djokovic's attention will now turn to securing a third French Open title – a tournament he last won two years ago when he also beat Tsitsipas in the final.
This year's gathering at Roland Garros gets under way on May 28, while he will also be eager to retain the Wimbledon crown he claimed for the seventh time last year.
Were Djokovic to do that, it would make it a fourth title in five years at the All-England Club, and he is determined to keep playing for as long as he has the desire to stay at the highest level.
"I don't know how many more years I'm going to play or how many more Slams I'm going to play," Djokovic said. "It depends on various things – it doesn't depend only on my body.
"I think it's extremely important for me to be, of course, first to have the support and love from the close ones, and ability to go and play and keep the balance with the private life, but at the same time have the mental clarity or – how should I say – aspirations to really strive to chase these trophies.
"Physically I can keep myself fit. Of course, 35 is not 25, even though I want to believe it is, but I still feel there is time ahead of me. Let's see how far I go."
Djokovic: Missing final not easy for my father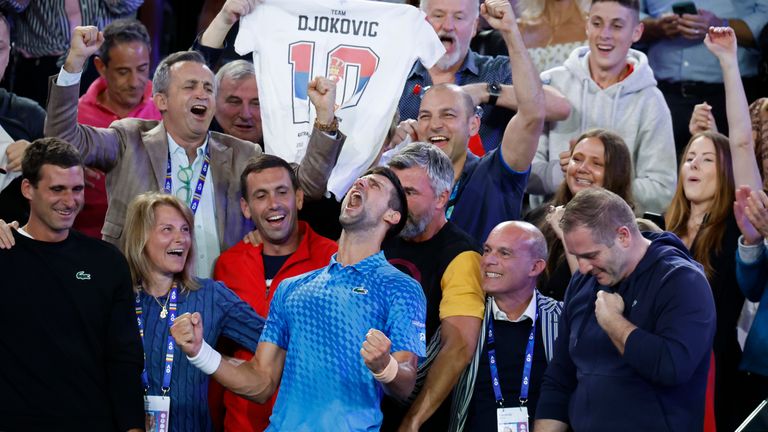 One familiar face who was absent from Djokovic's coaching box for the final was his father, Srdjan, who missed his semi-final too after being filmed with a group of people with Russian flags including one with an image of Vladimir Putin.
Australian Open organisers banned spectators from carrying flags of Russia or Belarus, saying they would cause disruption because of the ongoing invasion of Ukraine. Djokovic and his father stated it was a misunderstanding, with Srdjan thinking he was with Serbian fans.
Djokovic was able to catch up with his father following his straight-sets victory over Tsitsipas and while he was pleased to be able to share those moments with him, he conceded it had been difficult for both that he was unable to watch the match in person.
"We both agreed it would probably be better that he is not there," Djokovic said. "That hurts me and him a lot because these are very special, unique moments – who knows if they repeat again? So, it was not easy for him.
"I saw him after the match, of course. He was not feeling his best, let's say, even though he was very happy to hug me and of course with everything. I could see that he's a bit sad.
"I think in the end also what he told me is that it's important that I feel good on the court, I win the match, and he's here for me. If it's going to be better for me as the outcome of the match so that he's not in the box, then so be it. That was the whole conversation.
"In a way I'm also sad that he was not there, present, in the stands, but he was throughout the entire tournament, so it's fine. In the end we have a happy ending."
Tsitsipas: I am born a champion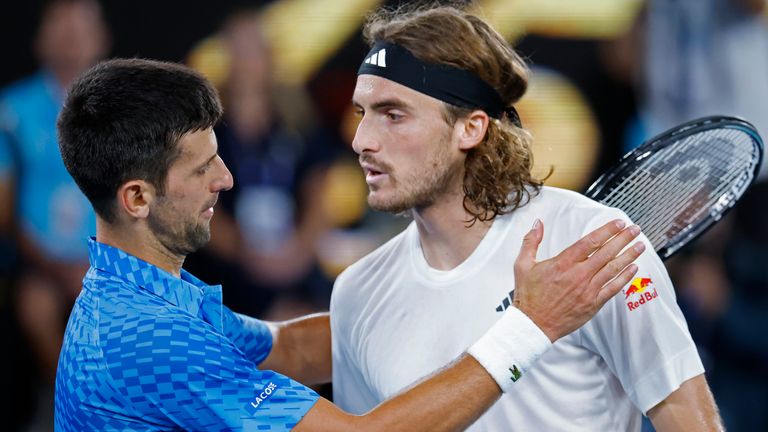 It was a second Grand Slam final defeat for Tsitsipas, who also lost to Djokovic from two sets up at the French Open in 2021.
The Greek, who would have become world No 1 himself had he won, is confident he is on the right path, though, saying: "Today was my opportunity to be a world number one. I had a better opponent on the other side of the net who did things much better than me. He deserves that spot currently.
"It's my time to aim for something like this. I don't see any reason to be lowering my expectations or my goals. I am born a champion. I can feel it in my blood."
File source