Sports
"Pat Riley had to call me and say 'stop training, you gonna burn yourself out'" – Magic Johnson shares professional offseason schedule playing for Lakers, hints how NBA introduced Summer League in NBA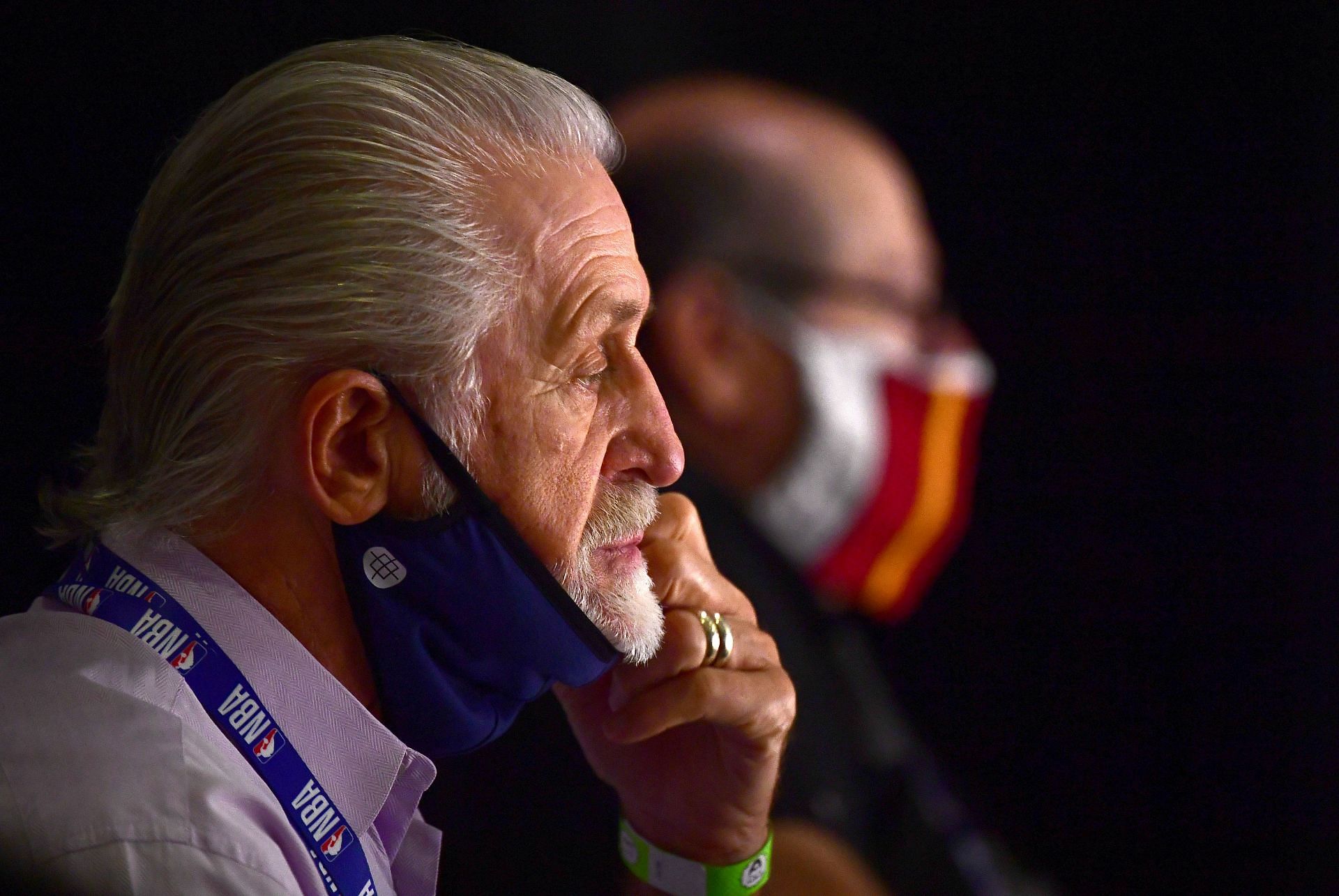 Former head coach of the Showtime Lakers Pat Riley has a strong bond with Magic Johnson, who used to play for him. Before becoming the godfather of South Beach, Riley was collecting rings with the Los Angeles Lakers.
Magic Johnson joined Shannon Sharpe's Club Shay Shay as a guest for the new episode. In the segment, Johnson discussed how he would end up playing pick-up games all throughout the summer back when he was still active in the NBA. His tendency to constantly workout resulted in Riley stopping him to avoid any injuries that he could possibly suffer. For someone as competitive as Johnson, it was difficult for him to ignore those who called him to play basketball.
Not to mention, this was during his prime when his team was consistently in the finals. The toll of the 82-game season, plus the playoff games, was a major concern for Pat Riley.
"When you add the regular season, and then you add the playoff games as well every year. And then, we were also professionals. So, we only took probably two to three weeks off and then we were right back training," Johnson said.
"When I played, I trained all the time. My coach, Pat Riley had to call me and say 'stop training, you gonna burn yourself out.'"
"Isiah [Thomas] would call, 'Man, we playing in the summer league in Chicago, we gon' run for two weeks.' I'm there… Then Dominique [Wilkins] will call and say, 'Hey, we're playing in Atlanta, come on to the summer league there.' So we spend two weeks for Dominique playing in Atlanta's summer league."
The routine that Johnson exercised has a ton of risks. It could cause other players to suffer injuries or sometimes, players could fall out of love with the game. The good thing for Magic Johnson, those two never happened to him.
---
Erik Spoelstra is the new Pat Riley
Since the arrival of Pat Riley to the Miami Heat in 1995, he has transformed the franchise into a winner. From 1995 to 2008, Riley led the team as their head coach and achieved incredible success. When he finally decided to step down from the coaching job, he hand-picked his replacement and chose Erik Spoelstra. Spoelstra, who started out as a video coordinator for the Heat in 1995, climbed up the ranks and slowly became recognized for his efforts.
It also looks like Riley will be replacing Spoelstra any time soon. Even during the time that LeBron James tried to get Spoelstra fired, Pat Riley stood his ground. This allowed Spoelstra to win back-to-back titles with the Heat. In the following years, even though the team didn't have enough starpower, they didn't rely on tanking to get back to their winning ways.
By the looks of it, Spoelstra is on his way to becoming one of the greatest coaches in the history of the league. Indeed, it is a fact that Pat Riley has a good eye and knows which people will succeed.
Edited by Hans Themistode