Sports
Paul Merson has questioned Leeds United's decision to sack Jesse Marsch with two games vs Man Utd coming up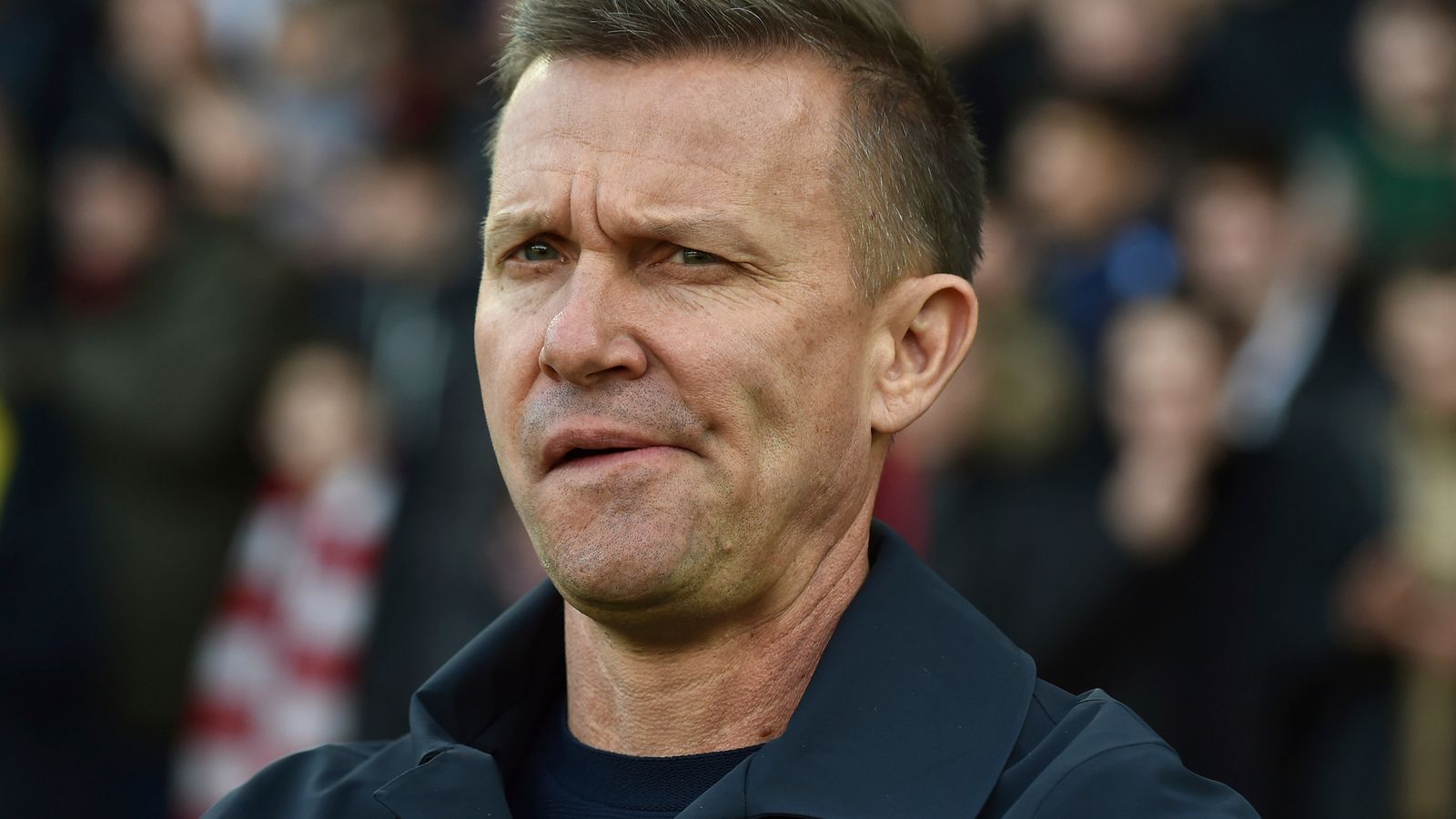 Paul Merson has questioned Leeds' decision to sack boss Jesse Marsch with two games in four days coming up against Manchester United, starting at Old Trafford on Wednesday.
Marsch was sacked as Leeds head coach after one year in the job on Monday.
He was dismissed with the club only above the relegation zone on goal difference ahead of two Premier League meetings with Man Utd this week, the first of which is at Old Trafford on Wednesday before the return fixture at Elland Road on Super Sunday, live on Sky Sports (kick-off 2pm).
Leeds are considering Rayo Vallecano head coach Andoni Iraola, West Brom boss Carlos Corberan and Celtic's Ange Postecoglou, along with other candidates, to replace Jesse Marsch as head coach, with interviews for the position already under way.
Meanwhile, Leeds have announced Michael Skubala, Paco Gallardo and Chris Armas will coach the team until a replacement for Marsch is found, including for the first clash at Old Trafford, but Merson, speaking in his exclusive skysports.com column, cannot understand the decision made by Elland Road chiefs.
Read on for Merson's thoughts in full on Marsch's departure from Leeds and what he believes should be next for the club…
Merson on Leeds: 'They've written off their biggest games of the season'
Manchester United manager Erik ten Hag does not believe sacking managers gets football clubs better results

I can't believe what's happened at Leeds. I cannot believe what they've done.
They've got back-to-back matches coming up against Manchester United in the space of four days and they've sacked the manager.
Let's be honest, this team is bang unlucky. Surely people are watching and thinking that the Leeds players were running around and putting the effort in for the manager. They just couldn't put the ball in the back of the net.
This is Leeds' biggest game of the season but it feels like the club have written it off. It's like they've said lets get these two games out of the way and we'll start our push from there.
But everyone knows anything can happen in football.
Luckless Leeds | 'Things can change quickly'
FREE TO WATCH: Highlights from the Premier League match between Nottingham Forest and Leeds

It feels like Leeds are one of those teams that if they click, they'll be difficult to face. I still can't see them going down.
I really thought Leeds were doing alright this season, but they just needed that bit of luck to go their way. Every team needs luck. Arsenal need a bit of luck to be where they are.
Things can change really quickly.
In my opinion, I really think players get you the sack. There are times when you look at a group of players during a game and you can tell they don't fancy it.
But the Leeds players seemed to be running around for the manager. They couldn't give any more really, but I just cannot believe the decision Leeds have taken.
'Leeds are not a million miles away'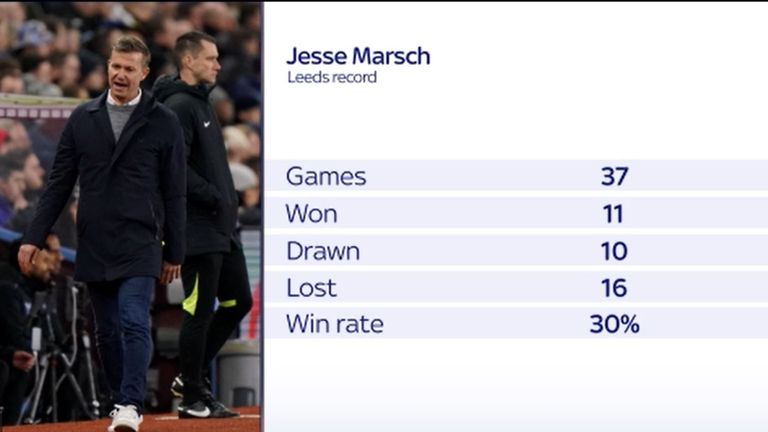 Man Utd are Leeds' biggest rivals. They are playing them twice now and they have no manager.
Leeds have also brought new players in, who have signed for Marsch. He knew these players and they have joined the club on the strength of him being the manager. All of a sudden, he's gone.
I'd like to think the players thought they'd have a better chance of getting something from these games with Man Utd with Marsch as manager.
They weren't a million of miles off.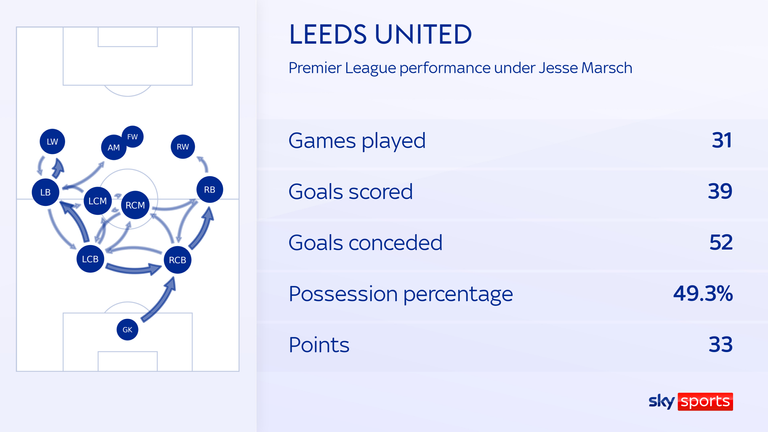 I watched them recently against Brentford and I thought they played really well in the second half, but they could not score a goal. Against Nottingham Forest on Sunday, they had 70 per cent of the ball and 10 shots. Forest had two shots on goal in the whole game and Leeds lost the game 1-0.
I feel so sorry for Marsch. I know they are down the bottom and results haven't gone the way that the club or the manager have wanted, but if we are honest, they were always going to be around that area anyway and potentially mid-table at best.
But a bit of luck here and there and this could have been a completely different season for Leeds.
'Where's Marsch's replacement?'
Former Leeds United goalkeeper Paul Robinson believes sacking Marsch was the right decision as he was given enough time at the club

It doesn't make sense that having sacked the manager they haven't got a replacement lined up already.
They have two big games in four days against United. It's different if a club sack a manager and they haven't got a game for two weeks.
You have to think of the fans because you don't want to be going to Old Trafford of all places and getting beat 4-0 or 5-0.
It's like they are admitting they haven't got a chance in these two games and just want them out of the way. I'm flabbergasted.
Paul Merson could not hide his excitement as Crysencio Summerville scored a late winner for Leeds against Bournemouth

Who knows? They might have got a couple of results with Marsch.
I thought they might with a change in luck.
They are not getting battered or getting embarrassed. They have been in most games this season, but they can't score a goal at the moment.
He couldn't help that. His best striker has been injured for most of the season.
The scrap for survival | 'It's still tight at the bottom'
Danny Mills says Marsch's emotional response to Leeds' recent run of form showcased a denial of the club's relegation battle

Things can change quickly. They could quite easily lose twice to Man Utd, and they face Everton and Southampton before an FA Cup game against either Sunderland or Fulham and a league game against Chelsea.
By writing these two games off they are potentially making the game against Everton a cup final.
It's not that easy. You can't just write off football matches when you are down the bottom.
Marsch was left 'frustrated and disappointed' after Leeds' 1-0 loss to Nottingham Forest and says they keep playing well but finding ways to lose

I'm not sure if they've started to listen to some of the fans, if they are getting a bit frustrated.
But still, I don't think you want to be changing things up like this at this stage.
It's still extremely tight down at the bottom. One win can change an awful lot.
'Hard to change styles' | Is Bielsa an option?
Sky Sports News chief reporter Kaveh Solhekol explains why Marsch was sacked as Leeds boss and the American's potential replacements

Leeds haven't got the players to do what Everton did under Sean Dyche against Arsenal. They have a completely different style.
I think the only way they could potentially get out of trouble is to bring Marcelo Bielsa back.
Leeds are used to playing in a certain way. They play at 100 miles-per-hour. It's high-pressure football and they are full of energy. They could do worse than bringing Bielsa back. The fans would be on board with it.
It's so difficult to change style midway through a season.
That's why Bielsa didn't go to Everton. He looked at the players and thought that they couldn't play in the way he wanted. However, Dyche looked at the Everton squad and it was completely different. Those players are a dream for Dyche.
Now this Leeds team can still play in the way Bielsa wants to play. The players haven't got time to change and get used to a completely new style of playing.
Because of that Bielsa has to be an option.
Who's next for Leeds?
Sky Sports News senior reporter Tim Thornton:
The process of finding a replacement for Marsch is underway with interviews already starting and Leeds hope to make a swift appointment.
There are lots of names doing the rounds.
Marcelo Bielsa was one of the first names mentioned on Monday but a move for the former Leeds boss is highly unlikely, but West Brom boss Carlos Corberan, who worked under Bielsa, is a candidate, while Ange Postecoglou at Celtic has also been linked.
Rayo Vallecano head coach Andoni Iraola is someone Leeds are aware of but there are lots of names that fall into that category. Another name that cropped up overnight was the Spain legend Raul. He's reserve team manager at Real Madrid and he was actually someone Leeds looked at last year before appointing Marsch.
However, there is a feeling he will not leave Real Madrid and although Leeds are aware of him, I would not expect that to develop.
It is also worth noting Leeds have a track record of left field appointments, so as they work through their list of targets, there is a good chance that a candidate emerges that could surprise everybody.
Another consideration will be if they need to bring someone in with Premier League experience given their current predicament, but Leeds are working through a list of potential candidates.

Sunday 12th February 1:00pm


Kick off 2:00pm

February 8: Manchester United (A) – kick-off 8pm
February 12: Manchester United (H) – kick-off 2pm, live on Sky Sports
February 18: Everton (A) – kick-off 3pm
February 25: Southampton (H) – kick-off 3pm
March 4: Chelsea (A) – kick-off 3pm
March 11: Brighton (H) – kick-off 3pm
March 18: Wolves (A) – kick-off 3pm
File source