Sports
Randy Arozarena, Rays look to clobber struggling Blue Jays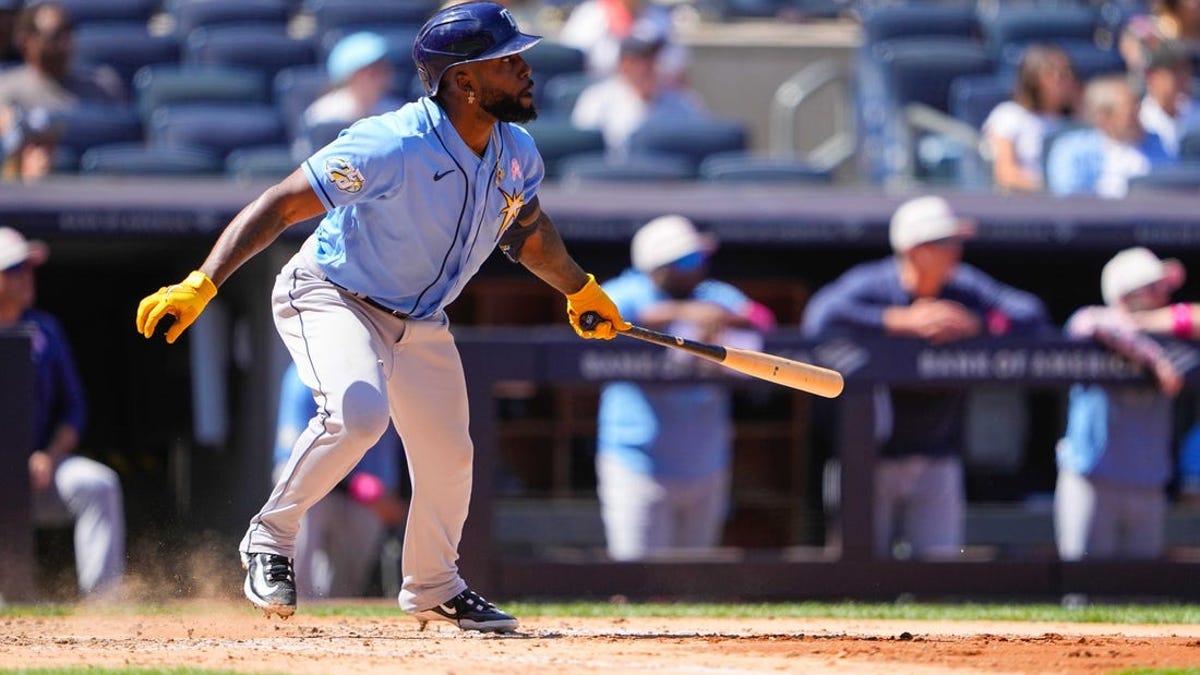 [ad_1]
Tampa Bay Rays manager Kevin Cash has noticed some changes in outfielder Randy Arozarena's routine before games, but those changes seem to be working
Mean Joe and Tommy GOAT | Michael Evans Behling's Ultimate Sports Fantasy
"You watch him take batting practice," Cash said. "It's different now. It's not the dead pull, pull, pull. I mean, there's a lot of intent to kind of be that complete hitter, to hit balls in both gaps."
Cash will again count on Arozarena on Tuesday night when the Rays face the Toronto Blue Jays in the second game of a four-game series in St. Petersburg, Fla
Arozarena is batting .308 with 11 homers and 37 RBIs for the Rays, who are a majors-best 21 games over .500
Arozarena went 2-for-4 with a solo homer and a double in the Rays' 6-4 series-opening win over Toronto on Monday
However, in the third, he was robbed of an extra-base hit on a leaping catch against the wall by right fielder George Springer, likely saving two runs.
Blue Jays first baseman Vladimir Guerrero Jr. committed two missed-catch errors that led to four unearned runs against starter Chris Bassitt, who had not allowed a run over three May starts prior to Monday's
Bassitt fell to 5-3, but more importantly, the club's losing streak reached five games. The Blue Jays, who sit in last place in the American League East, are now 1-7 in their last eight games
"You can't give multiple outs to a really good team and expect to win," Bassitt said. "We're just not playing good baseball right now. We've got to clean a lot of things up. From a pitching standpoint to baserunning, all facets of the game. We've got to clean it up."
The Blue Jays are 5-13 in games played within their division
Tuesday starter Jose Berrios (3-4, 4.61 ERA) has a distinction this season that stands out — he was the first pitcher to beat Tampa Bay during its torrid start to the new campaign.
On April 14, with the Rays riding a 13-game winning streak and seemingly breaking records each and every night, Berrios allowed just one run and four hits in five innings as the Blue Jays handed the visitors a 6-3 defeat for their first setback of 2023
Berrios is 2-4 with a 5.44 ERA in nine career starts against the Rays
Tampa Bay's Taj Bradley (3-0, 3.54) has looked the part as the club's top pitching prospect so far, posting strong numbers and keeping runners off base through four starts.
Across 20 1/3 innings, the right-hander has allowed eight runs and 15 hits while striking out 27 and walking just four with a hit batter. His WHIP sits at a crisp 0.934.
The Rays received some good news regarding their pitching staff, as the return of former ace Tyler Glasnow is on the horizon
Glasnow had another productive start at Triple-A Durham on Sunday.
Against Nashville, the Milwaukee Brewers' Triple-A affiliate, Glasnow yielded one run on two hits to go along with six strikeouts and two walks in six innings. He threw 67 pitches.
"Encouraged by that," Cash said of Glasnow's outing. "I would expect, if he comes in feeling good, then we'll be talking about getting him to join us at some point."
–Field Level Media
[ad_2]
File source