Sports
Reports: Carmelo Anthony's son Kiyan Anthony offered scholarship by Syracuse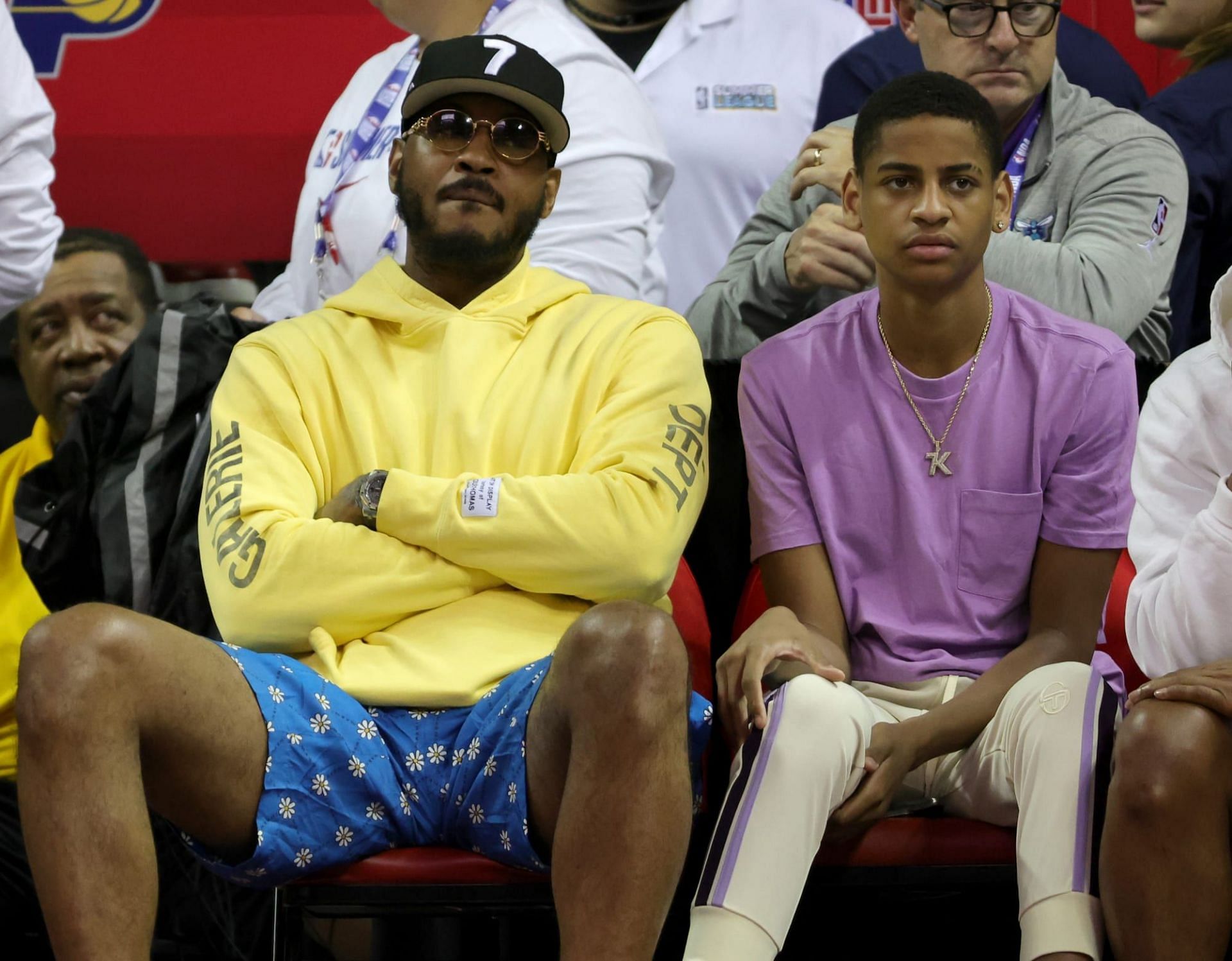 Carmelo Anthony was a dominant force in college basketball for the University of Syracuse. Before cementing himself as a top NBA player, Carmelo led the Orange to the 2003 national championship.
It looks as if he won't be the only Anthony to wear the jersey of the prestigious program. In a tweet from "BallerTV," Anthony's son, Kiyan, was offered a scholarship by Syracuse.
Kiyan is a four-star prospect who is in the high school basketball class of 2025. He attends Christ the King High School in New York City. The 6-foot-5 wing will have the chance to attend the same powerhouse school.
---
Carmelo Anthony during his time at Syracuse
NBA veteran Carmelo Anthony only spent one year playing college basketball. As a "one-and-done," Anthony accomplished something that most freshmen don't get the chance to do: win a national championship.
In his only season at Syracuse, Carmelo stacked up the awards. He finished his freshman season with averages of 22.2 points, 10.0 rebounds and 1.6 steals per game. On top of that, Anthony also shot 45.3%, including 33.7% from 3-point range.
During Syracuse's impressive NCAA Tournament run, Anthony played some of his best basketball of the year. Over the span of six games, Carmelo averaged 20.2 ppg and 9.8 rpg. He shot 47.5%, including 47.6% from 3-point range.
Anthony's most impressive performance came in the Final Four, as he finished with 33 points, 14 rebounds and three steals in a 95-84 semifinal win against the Texas Longhorns. Named the tournament's Most Outstanding Player, he had 20 points and 10 rebounds in a 81-78 win over Kansas in the national championship game. It was Syracuse's first NCAA Tournament title.
After winning the national championship, Carmelo announced his intention to enter the 2003 NBA draft. He was the third overall selection in 2003 by the Denver Nuggets. That draft is still considered by many to be one of the greatest draft classes in the NBA.
Although Carmelo Anthony is waiting for his next opportunity at the NBA level, his college experience has now come full circle. The team he won a national championship for has extended an offer to his son, Kiyan.
Kiyan Anthony is currently ranked as the 62nd-best player in the 2025 class, but that ranking can improve. For now, basketball fans will watch as Carmelo Anthony's son could return to Syracuse.
Edited by Joseph Schiefelbein