Sports
Southampton's Nathan Jones on 'compromises' holding him back from 'best in Europe' job he did at Luton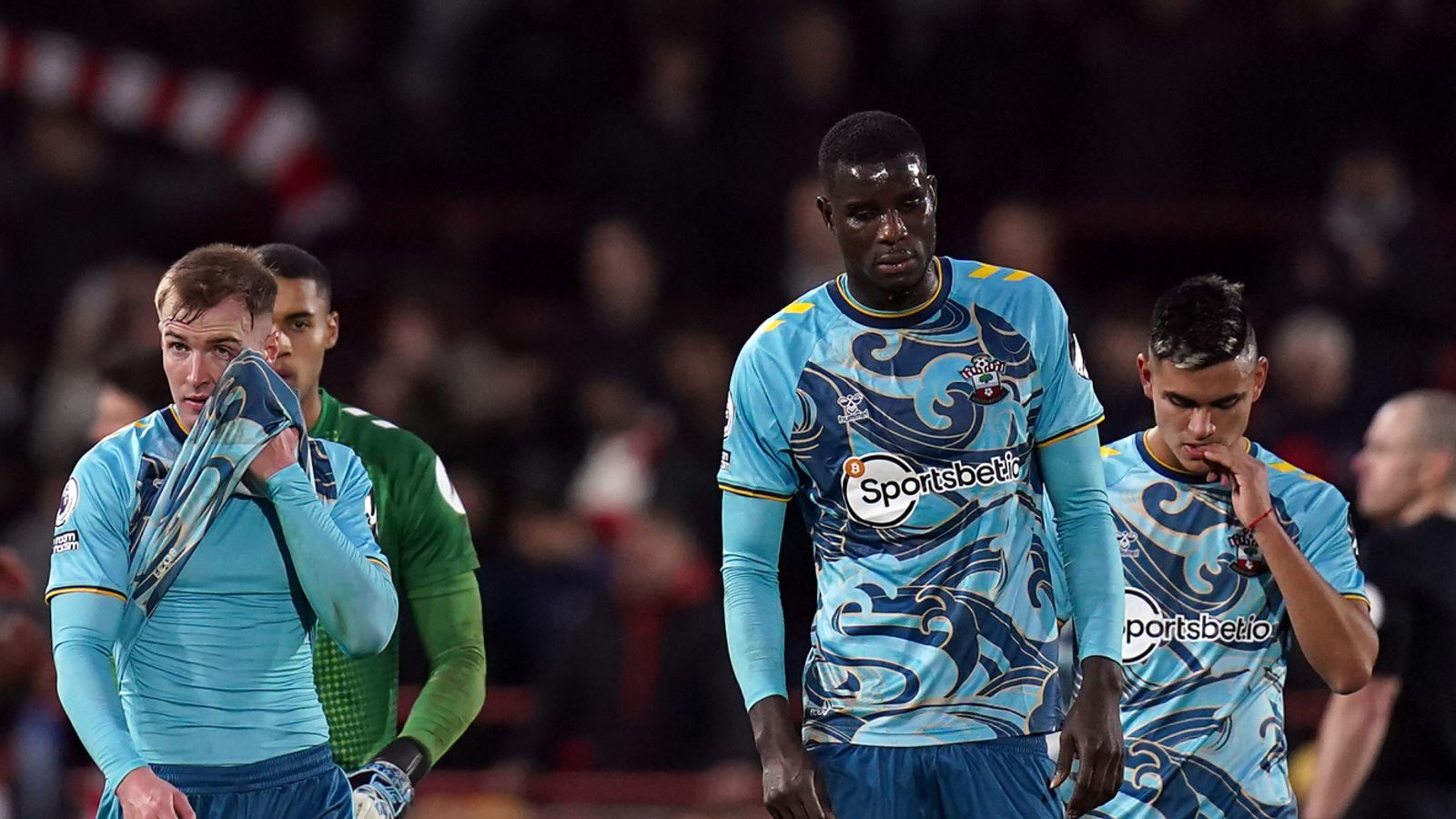 Nathan Jones has defended his credentials as one of Europe's statistic-leading managers at Luton but admitted he has "compromised" since joining struggling Southampton.
Jones has overseen a run of six defeats from seven games since he became Ralph Hasenhuttl's successor in November, with Southampton sat rock bottom of the Premier League and three points from safety.
Travelling Saints fans called for the Welshman to leave the club during a shambolic 3-0 defeat at Brentford on Saturday, but Jones came out fighting.
While admitting his own mistakes since his arrival, the ex-Luton boss defended his managerial record and highlighted his previous success in the game which had earned him the job in the first place.
"I've compromised," he said. "I've compromised in terms of certain principles because of one, personnel, but two, the way that people want to play and so on.
"I've compromised because of fans, and so on, a few little things but – no more. I've been very successful playing a fluent style, Luton were a real aggressive front-footed side. Statistically, there weren't many better than me around Europe in terms of aggression, clean sheets, defending the box, balls in the box, xG, all those sort of things.
"We were pound-for-pound the best because we were spending next to nothing and producing so much. And I've gone away from that.
FREE TO WATCH: Highlights from the Premier League match between Brentford and Southampton

"Maybe it's because of the Premier League or how things look – players, internationals and stuff like that. I've had to compromise certain things and I'm not going to do that again."
Southampton are the fourth-lowest scorers in the Premier League this season and have conceded almost two goals a game across their 21 matches so far, a run Jones has been unable to arrest since his arrival – failing to keep a single clean sheet in those seven league games to date.
When asked to pinpoint the source of Southampton's problems, he added: "The same things have been happening for a year, are still happening. They've been losing games in the Premier League and conceding goals not defending the box well enough, not scoring enough goals, and it's been exactly the same.
"We were brought in to do something different because with a shoestring budget [at Luton], we were scoring, defending the box well, out-pressing teams and finishing. We were doing the basics so well. That's why I was recruited – to transfer that into the football club. I haven't at the minute. That will change."
Asked if he will have the time at Southampton to implement those changes, he said: "I don't know. It's not a question for me. I hope so.
"I look at that team and I don't see myself in that team. That's the biggest thing, that's going to change."
File source