Sports
WATCH: UFC Hall-of-Famer Matt Serra gets pinned by Neil deGrasse Tyson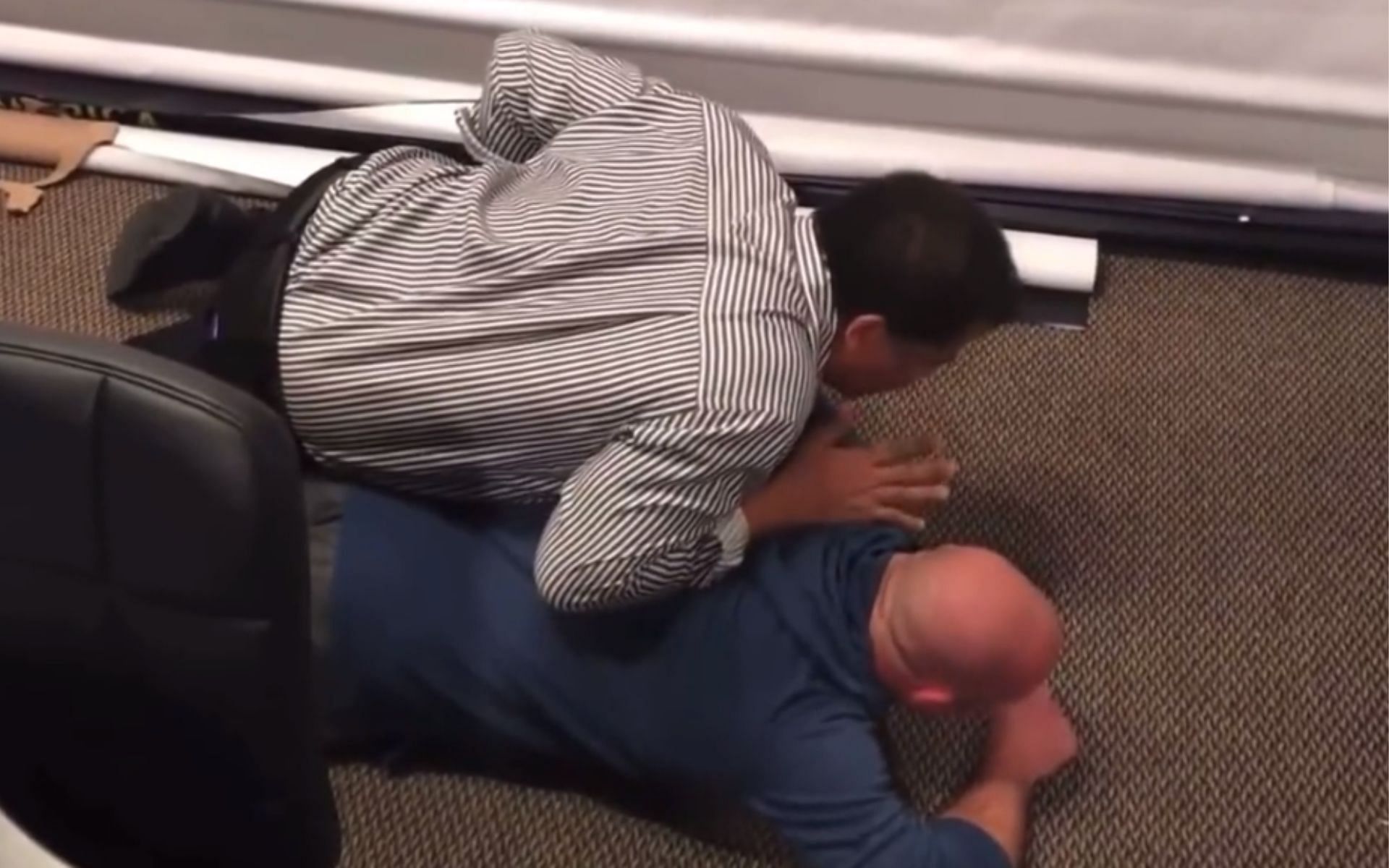 UFC Hall-of-Famer Matt Serra spoke with world-renowned scientist Neil deGrasse Tyson on the UFC Unfiltered podcast back in 2017. The podcast episode witnessed host Serra and guest Tyson engage in a grappling session and exchange martial arts knowledge.
As reported by BJJ Eastern Europe, Neil deGrasse Tyson suggested that wrestling is the world's toughest sport. A cosmologist, astrophysicist, science communicator, and author, Tyson also possesses vast experience in the martial art of wrestling.
The 64-year-old used to compete in the sport of amateur wrestling as a youth. Tyson was the captain of his high school wrestling team and competed in the wrestling squad at the U.S.'s prestigious Harvard University. Expressing his respect for wrestling, Tyson stated:
"Wrestling is the hardest thing to do. Anyone who says something else is the hardest thing, has never wrestled. A wrestling match is just the laws of physics. Where is the tipping point? Where is the center of mass? What are the support forces? And that's how I thought about it."
During their grappling session in 2017, Neil deGrasse Tyson was shown the beauty of BJJ (Brazilian Jiu-Jitsu) by BJJ wizard Matt Serra, who demonstrated how to utilize a kimura submission hold. Meanwhile, Tyson displayed his wrestling skills and used a crafty pinning technique against the former UFC welterweight champion.
Watch Tyson and Serra's grappling session in the video below:
UFC commentator and MMA personality Joe Rogan, who's well-acquainted with Tyson and Serra, subsequently addressed the grappling session. Posting a video of the session on Instagram, Rogan wrote:
"This is a beautiful thing: @mattserrabjj explaining the technique and leverage of Jiu Jitsu to @neildegrassetyson #Repost @mattserrabjj. Science with the scientist!!! Talking Kimuras, wrestling and oh yeah some space stuff with the great @neildegrassetyson!!! #ufc #mma #science #neildegrassetyson #jiujitsu #wrestling"
---
Neil deGrasse Tyson discusses the Big Bang and Multiverse with Joe Rogan
Neil deGrasse Tyson recently appeared on the JRE (Joe Rogan Experience) podcast and spoke to podcast host Joe Rogan regarding multiple topics. The veteran scientist and Rogan weighed in on concepts such as the Big Bang and the Multiverse theory. Tyson explained:
"If you have an idea about something then you test it. Multiple ways. And get other people to test it. If the tests give you consistent results, you have a new understanding of the universe."
Watch their discussion from JRE #1904 below:
Tyson indicated that when one gains further information and understanding of how the universe was born, the previous knowledge of the universe doesn't go away. Instead, he believes that one gains a deeper understanding of the universe in which their past knowledge gets embedded.
Watch the JRE podcast featuring Tyson episode below: