USA News
Mike Bonin Calls Kevin de León's Refusal to Quit LA City Council 'Deepening the Wound'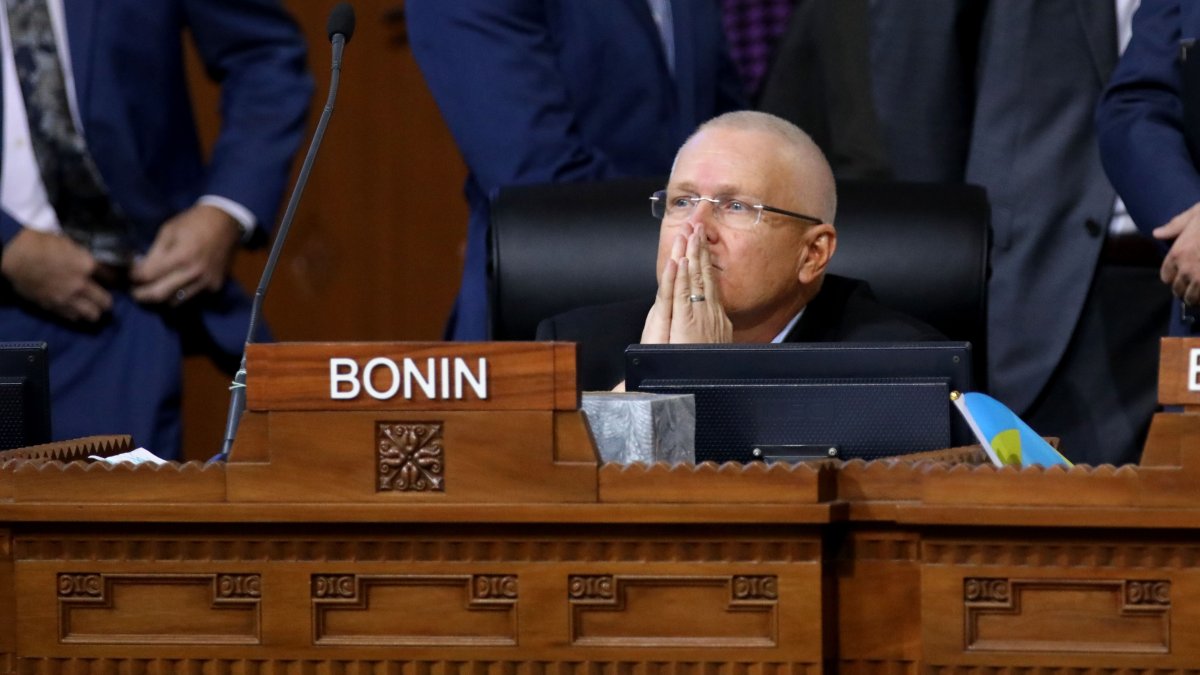 Los Angeles City Councilmember Mike Bonin said there might be a road to redemption for a colleague who has faced widespread calls to resign over a recorded conversation that included racist remarks about his young son.
But that road doesn't go through Los Angeles City Hall.
Bonin responded Thursday to an interview in which Councilmember Kevin de León said he has no plans to resign his District 14 seat. The interview, de León's first public statement about his future with the council, included an apology.
"I'm sorry to all of my colleagues," de León said in the interview. "I'm sorry to my family and Mike Bonin's family."
In an interview Wednesday with NBCLA, Bonin said the words are not enough.
"To me, the first step to an apology is going to be a resignation," Bonin said. "This is a diverse city. And, he insulted huge chunks of the city with divisive, harmful, hateful racist comments.
"He's going to have wait 10 or 12 years until my son is old enough to fully understand what he said, and then he can ask my son for forgiveness."
In a tweet, Bonin called the comments "gaslighting of the highest order."
Of the three council members heard on the recording of the 2021 conversation about redistricting that was made public Oct. 9, only former council president Nury Martinez has stepped down. De León and Gil Cedillo both attended a raucous Los Angeles City Council meeting in the days after the recording was made public, but departed after a conversation with their colleagues.
They haven't been back in City Council chambers and did not appear at the council's vitual meetings.
The discussion at the heart of the firestorm centered on protecting Latino political power during the redrawing of council district boundaries, known as redistricting. The once-a-decade process can pit one group against another to gain political advantage in future elections.
Among comments in the conversation, Martinez belittled Bonin, who is white and has a 2-year-old adopted Black son, and criticized the child for his behavior at a Martin Luther King Day parade, saying Bonin's son was misbehaving on a float, which might have tipped over if she and the other women on the float didn't step in to "parent this kid."
Martinez also called the child "ese changuito," Spanish for "that little monkey."
De León also criticized Bonin. "Mike Bonin won't f—ing ever say peep about Latinos. He'll never say a f—ing word about us."
De León also compared Bonin's handling of his son at the MLK Parade to "when Nury brings her little yard bag or the Louis Vuitton bag."
"Su negrito, like on the side," Martinez added, using a Spanish term for a Black person that's considered demeaning by many.
In the interview Wednesday with CBS Los Angeles, de León said he made a "flippant remark" that he should not have made.
"He made cruel, disparaging, dehumanizing remarks about my son," Bonin said. "They're a hell of a lot more than flippant.
"He was an active participant in a conversation that was full of blatant anti-Black racism that was a coordinated effort to disenfranchise people," Bonin said. "It was a horrible conversation."
De León also spoke Wednesday with Univision.
"I will not resign because there's a lot of work ahead," he to the TV station. "There's a lot of work that we have to face. The crisis that is happening in the district, the infections, the unemployment, the threat to eviction, the humanitarian crisis of the homeless."
The council is not empowered to remove an elected member and can only request they step down, unless a criminal investigation is involved.
Protesters have gathered outside de León's for several days, demanding his resignation.
In a tweet after the interviews were broadcast, Bonin said de León is making an already bad situation worse.
"Kevin de León cannot be part of the healing as long as he refuses to resign," Bonin tweeted. "His stubborn refusal to do what everyone else knows is necessary is deepening the wound he has inflicted on Los Angeles."
De León also sent a letter to newly chosen Council President Paul Krekorian asking to be excused from attending council meetings "in the coming weeks" so he can focus on the healing process. The letter was first reported by the Los Angeles Times and obtained by City News Service.
De León told Krekorian he would be "spending the coming weeks and months personally asking for your forgiveness."
Krekorian did not appear to accept de León's attempt to make amends. In a statement, Krekorian said "apologies will not be nearly enough to undo the damage that this city has suffered."
"The only way we can begin to heal as a city is for Mr. de León to take responsibility for his actions, accept the consequences, and step down."
California Attorney General Rob Bonta, another Democrat, said he will investigate Los Angeles' redistricting process, which could lead to civil liability or criminal charges, depending on what is found. The Los Angeles City Attorney also issued calls for a ballot measure on an independent commission to handle redistricting matters.
The year-old recording that captured racist slurs and a discussion about council redistricting was anonymously posted on Reddit, then taken down. It is not publicly known how the recording was made or even who else was in the room at the headquarter of a politically influential labor group.
The source of the recording "is a parlor game going on all over town," former Los Angeles County Supervisor Zev Yaroslavsky told the Associated Press. "It may never be solved."
No one at the meeting has spoken publicly about the possible source of the recording.