More asylum seekers test positive for COVID-19 in Melbourne hotel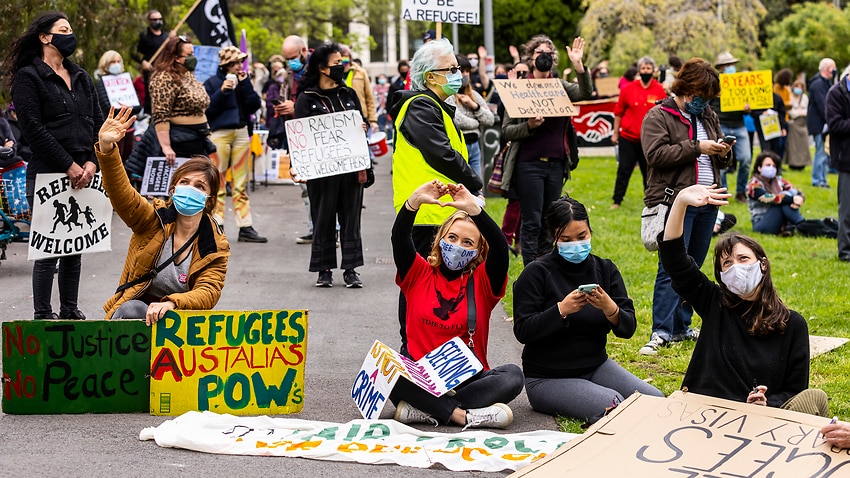 On Saturday, protesters gathered outside the hotel with asylum seekers inside speaking over the phone to the group, asking for help and support to get out of the hotel. 
Refugee Action Collective spokesperson Chris Breen was at the protest and said the men should be transferred to hospital or to regular hotel quarantine. 
"This is reckless indifference to the lives refugee's situation. Our concern is that the rest of the refugees are not safe inside the hotel. It's a sealed incubator and they can't open the windows," he said.
Federal Health Minister Greg Hunt said the outbreak is being contained. 
"In terms of vaccination of staff, that has been a fundamental focus of the states," he said. 
"Secondly, we test those that are coming to Australia before they come, and we have a testing regime while they are here … we have the ring of containment around in terms of the protections that are put in place."
With refugee advocates raising concern about the lack of ventilation inside the Park Hotel, Mr Hunt shifted the responsibility to the Victorian government, citing the inquiry into Victoria's hotel quarantine system led by former judge Jennifer Coate.
"There has been strong, clear advice to all of the states and territories that are operating these processes," he said.
Victorian Health Minister Martin Foley said the state government is concerned by the COVID-19 outbreak and is seeking assurances from the Park Hotel operator and the federal government on infection prevention protocols.
"What we're concerned about is the measures in place at the facility. They need to be the same or at least the same kind of standard that we will expect in other arrangements," he said. 
"We're not saying that isn't the case, but we just don't have the clarity of oversight, and we're seeking some assurances."
In its statement on Sunday, the Australian Border Force said one asylum seeker remains in hospital with COVID-19.
The ABF said 55 per cent of detainees have been fully vaccinated and 62 per cent have had their first dose, with vaccinations available to them since August.
File source