Sports
Mauricio Pochettino the 'perfect fit': Why Chelsea will be able to dream again under their incoming manager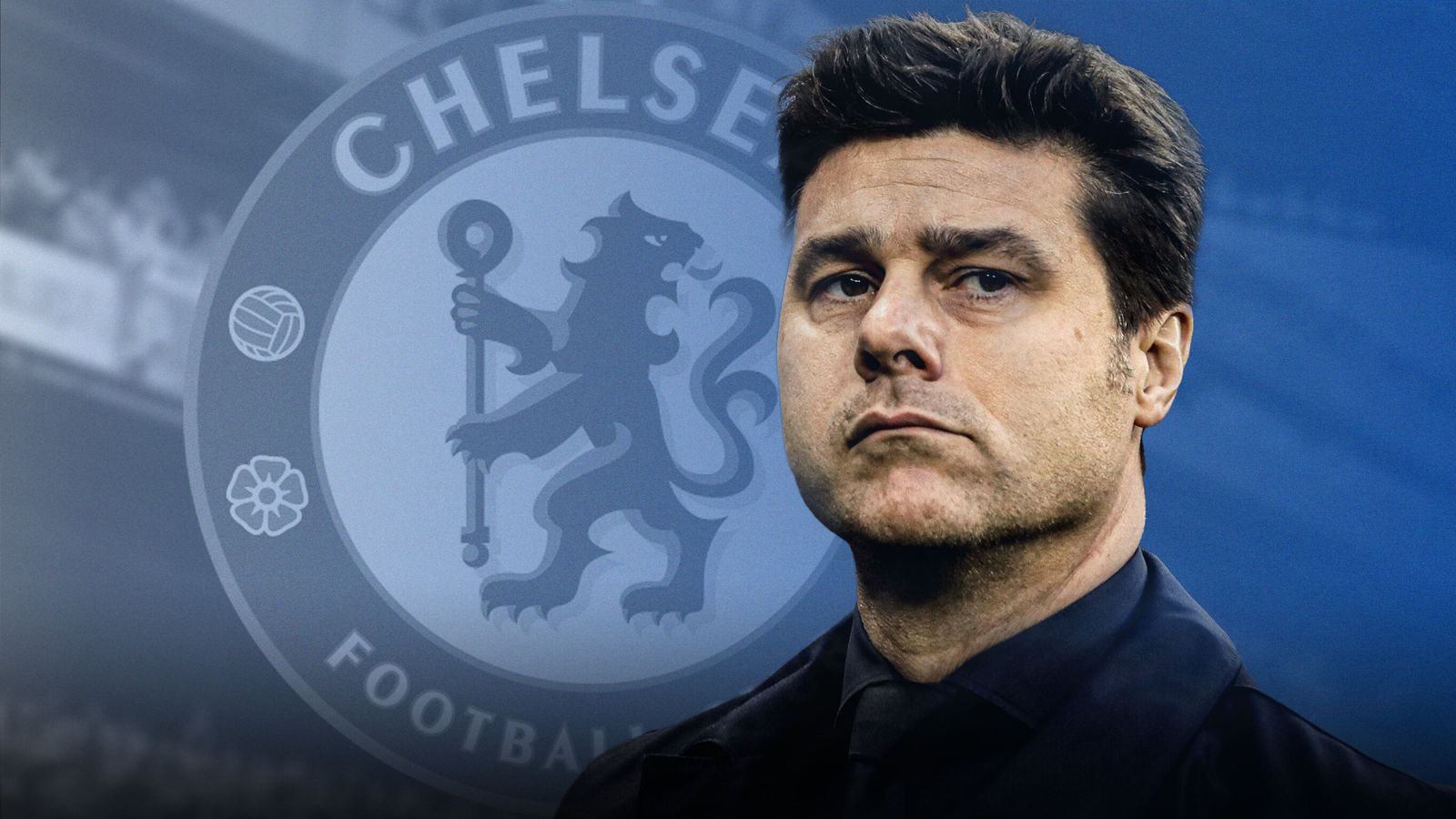 [ad_1]
There has not been so much doom and gloom around Chelsea for a long time. Even after former owner Roman Abramovich was sanctioned. Even after losing Eden Hazard at the start of a year-long transfer ban.
Chelsea finished outside the top 10 in the Premier League for the first time since 1996 at the end of a miserable season, which had promised so much under new, deep-pocketed ownership and a manager, Thomas Tuchel, adored in the stands.
Two sackings, £600m and the worst sets of results for nearly three decades later and the mood has soured to unpalatable lows. Now, Mauricio Pochettino is the man to press the reset button again this summer at Stamford Bridge.
This is the same man who signed off from his last job with a Ligue 1 title and French Cup during 18 months with Paris Saint-Germain, and barely four years ago led Tottenham to their first Champions League final. On the surface, there are plenty of reasons why inheriting a bloated squad low on morale and a seemingly impulsive, scattergun owner don't look appealing.
Todd Boehly has learned lessons the hard way from a chastening first 12 months in west London, and it is no coincidence he is about to appoint a man with a history of moulding clubs for the better.
On a special edition of the Essential Football podcast, Sky Sports News' Melissa Reddy and Paul Gilmour explained why the Argentine will bring a sense of optimism back to Chelsea from the ashes of a season they can't wait to forget.
'It has never been as perfect a fit as this'
"When you look at where the club are at the moment and their issues, structurally and squad-wise the amount of untapped potential there, and then you look at Pochettino's strongest qualities and what he's improved at clubs in the past – you see perfect symmetry, and why it makes sense for them to appoint him now," Reddy said.
"This is the third or fourth time they've tried to approach him, and I don't think any of the other times were as perfect a fit as this. The major thing Chelsea need is direction, purpose, clarity, an overhauling of all those things and that is his sweet spot, his skill set.
Melissa Reddy believes Mauricio Pochettino would be a successful appointment for Chelsea, insisting that the Blues needs purpose and direction after a shaky season

"He's very good at assessing the landscape. Competition in the Premier League is as high as it has been, but he will think Chelsea just need a few tweaks and they will be there. They don't need much to be a successful, triumphant team, they just need the right man to pull it together.
"That squad that Chelsea have, they'll be enlivened by him and excited by him. He'll have a clear identity and philosophy for the squad to work towards, which also gives the football structure an idea of how they should be recruiting – it'll create a sense of clarity, excitement and direction which they've been lacking.
"One of the other things to fix at Chelsea is interference from the owners. It's too hands-on in a lot of respects, not just in recruitment but going into the dressing room and addressing the players, when it's not their place.
"Pochettino has experience in dealing with this at Southampton, Nicola Cortese used to speak to the players directly but he made him come through the coaching staff instead. Part of the negotiations with Chelsea would have been about being allowed to work in the way they do, without undercutting them."
The scale of the Pochettino revolution at Tottenham and previously Southampton was evident from the results on the pitch, but the foundations behind it weren't always as evident from the stands.
At St Mary's for example, the individual conditioning programme he curated for Adam Lallana helped the midfielder shake off recurring fitness issues – and was something he missed after he was sold to Liverpool in 2014.
"He takes a real genuine interest in his players, what they're going through, what their personal lives are like," Reddy added. "There's an open-door policy where they can go and chat to him about anything.
"Ryan Mason is another one who will speak highly of him as a manager. He was a shell of a player and Pochettino and Jesus Perez saw that, worked with him, rebuilt his confidence, and when he went through that career-ending injury it was them who supported him and helped him gain that pathway into coaching.
"He sees things in players they can't see themselves and previous coaches couldn't – in terms of simple things like positioning, but their push points, how they need to be spoken to, how to motivate them. He creates a sense of the collective where no individual is greater than another."
Pochettino had been reluctant to speak English to the media at Southampton but still got his point across that respect sat at the heart of his philosophy, and when he moved to Tottenham – without his translator – his personality shone through even clearer.
"It's been talked about a lot the culture he brings to clubs; the handshakes where players shake hands at the beginning of every day, it's that culture of respect," Gilmour said.
"I remember it when we used to go and interview Pochettino at the airport on the way to European games, the players used to come up to us, ask how we were and shake our hands – it was all about representing the club and badge."
A carefully planned appointment
It is precisely because of those harsh lessons learned that Boehly has taken his time over this appointment, already the second of his short reign.
Graham Potter was sacked well over a month ago, but even Frank Lampard's struggles have not hurried the American into his next move – and he has been willing to accommodate Pochettino's desire for a summer start rather than walking into the malaise of this season.
Sky Sports' Paul Gilmour speaks on Mauricio Pochettino's experience from Paris Saint-German and believes his time managing elite players in Paris will help him with Chelsea's expensive squad

"Chelsea wanted to go through a thorough process to find the next manager. They wanted to trust the football people and work together as a team to do that," Gilmour added.
"Pochettino was keen to come back at the start of pre-season, most managers love to start from scratch and certainly he likes to do that, to run his players into the ground and get them fit for the new season.
"People like Todd Boehly and Behdad Egbhali don't get to where they are without realising what's working and what isn't. That's where I think they deserve credit. At first, there was a lot of change and upheaval, not just on the pitch but off it too. You think about Marina Granovskaia and Petr Cech, and a lot of people left the club at the same time.
"It hasn't worked this season, Chelsea fans have become accustomed to winning trophies, and it's what they demand and expect. As we've seen this season, you have to be ready to win and with the changes, the huge squad and new manager, it wasn't set up to win."
Pochettino is best known for his time at Tottenham, but it was in Paris where he finally broke his trophy duck, something he will be expected to add to sooner or later at Stamford Bridge.
Whether he succeeded or failed at the Parc des Princes is up for debate, given anything less than a Ligue 1 title is never enough for France's richest club, and though he failed to get them close to lifting the Champions League trophy, he is far from the only PSG manager to find life tough on the continent.
Jason Cundy believes that Mauricio Pochettino is a good appointment for Chelsea and fans will welcome his arrival to the club

"He's taken an awful lot from his PSG experience," Gilmour said. "It was incredibly different from Southampton and Tottenham. He faced quite a big squad there as well, and quite a few were captains of their national teams so were big personalities – but he still got on well with the players. There was never any falling out.
"It was difficult, for example, when Gianluigi Donnarumma was signed and he was a big fan of Keylor Navas, and he thought both were incredible No 1s and he had to deal with that. And as has been proven many times, top managers have struggled at PSG."
[ad_2]
File source